How to grow CACTUS in Uganda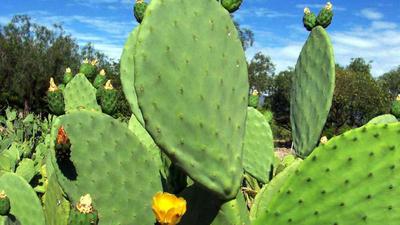 Cactus in Uganda

Cactus is a perennial arid or desert plant grown as a floor or house plant.

This strikingly succulent plant has of recent gained popularity amongst the juicing individuals, and I think it's attributed to the benefits which come with consuming the plants juice.

The plant can grow to up to 3 to 10 ft or more in height we locally call it 'Engabo ya Kabaka'.



Common Cactus varieties
There over thirteen popular varieties of the cactus plant and these include:
Zygocactus,
Schlumbergera,
Natocactus,
Mammillaria,
Echinocactus,
Cleistocactus,
Chamaecereus,
Cereus,
Cephalocerus,
Astrophytum,
Opuntia (this is the prickly pear cactus).
Soil requirements for growing Cacti
Cactus being mostly a dry land plant, it mainly requires very porous sandy loam soils with a leaf mold heap or a little organic matter to boost its mineral content.
How to propagate Cactus on your farm
Cactus can be started using seed or cuttings in form of stems cuttings, leaf cuttings or even offsets (like the small plantlets separated from the stock of the parent plant).
Contact us
here to buy Cactus
in Uganda
How to plant Cactus as an Ornamental Plant
Choose a healthy piece of stem at least 10cm along, and cut it off cleanly using tongs to hold.
Sit the cutting in an airy surface like the window sill until the cut surface heals or cures.
Apply powdered sulphur on the cut surface to help prevent infection.
To plant, get a pot or a polybag and fill it with sandy loam soils mixed with a little compost to boost fertility.
Place the base of the cutting to a depth of about 2cm, or deep enough that it stands upwards.
Contact us
here to buy Cactus
in Uganda
Uses of the cactus plant
Aside being an ornamental species of plant, there varieties of cactus that are consumed by people like the prickly pear cactus.
The plant is used as a super food by dieticians; its pulp and juice are used to treat skin wounds, stomach swelling, digestive problems and urinary tract infections.
In modern medicine however, prickly pear cactus extract are used to treat type 2 diabetes, colitis, high cholesterol and benign enlargement of the prostate gland.
Contact us
here to buy Cactus
in Uganda
Quick tips for planting a cactus plant at your home
Prepare potting container filled with humus reach sandy loam soils.
You can acquire a healthy seedling or cut a stem from an old plant of about 10cm when you up for self propagating.
Apply powdered sulphur or ash to prevent infection.
In a potting container drill a 2cm hole and sit the cutting in the middle.
Cover with the soil and sprinkle water on the soil.
Groom by cutting and watering to maintain a beautiful plant.
At a mature stage of the stems you can go ahead and harvest the stems for other uses.
Contact us
here to buy Cactus
in Uganda