How to Barbeque Goat Meat the Traditional African Way (Enyama Enjokye/Muchomo)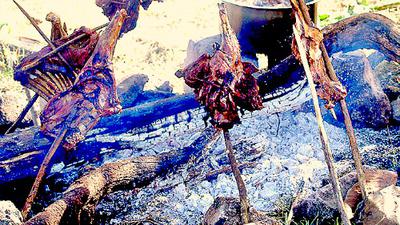 Goat Roasting with Temporary Barbecueing stove
Traditional Barbeque Recipe Ingridients
Goat Meat
Salt
Muchoma Cooking Method
Cut your goat meat into pieces
Put on Skewers "Obuti"
Roast over glowing charcoal
When it heats up, sprinkle salt as you turn the meat until you add enough.
If heat is too much, reduce it by pouring some ash or removing some of the charcoal or put some banana peelings or put some banana stems (bigogo) or pour some water.
Keep turning until meat is cooked.
Use of a temporally barbecueing stove