Healthy Vanilla Cake Recipe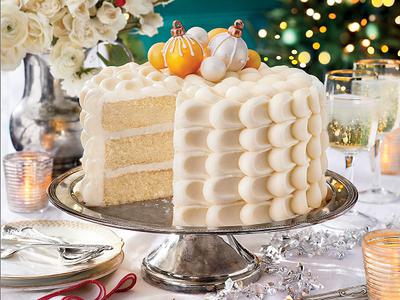 Vanilla Cake with Filling
How to make a Healthy vanilla cake

Creamy and healthy vanilla filling between two layers of fluffy cakes of whole wheat flour and buckwheat

Course Dessert
Prep Time: 20 minutes
Cook Time: 25 minutes
Total Time: 45 minutes
Yield: 8 slices


Ingredients
Cake
2 eggs or 3 egg replacements*
2/3 cup coconut or muscovado sugar 140g
1/3 cup liquid oil (coconut or sunflower oil works great) 70ml
2 tsp vanilla extract
1 1/3 cup milk of your choice 280ml
pinch sea salt
2 cups whole wheat flour** 240g
3 cups buckwheat flour 360g
3 tsp baking powder
Filling
2 cups cooked white beans 400g
1 3/4 cup cashew butter 400g
1 cup coconut milk 220ml
1/3 cup melted coconut oil 70ml
1/2 cup maple syrup or honey 110ml
2 tsp vanilla extract
pinch sea salt
Directions
Cake
Preheat the oven to 190°C
In a large bowl beat all the wet ingredients of the cake including the sugar. In another mix the flours and the baking powder.
Gradually add the dry mixture to the bowl with the wet mixture, while stirring. Once all well integrated, divide the mixture in 3 molds of 18cm in diameter with parchment paper and bake for 20-25 minutes or until when inserting a stick in each of the cakes it will come out dry.
Let cool
Filling
Process the beans until you get a hummus consistency. Add the rest of the ingredients and mix or process until everything is well integrated and you have a thick and creamy cream. Let it cool for half an hour
Divide the filling in two equal parts and assemble the cake, keep it in the refrigerator until 10 minutes before eating.
Notes
*You can use an Orgran type egg replacement, or prepare one with 1 teaspoon of flax flour and 3 tablespoons of water for each egg, mix and let stand 15 minutes.
** You can replace it with buckwheat flour for a gluten-free version, the result is not affected
Author: Gaspar Carreira