Ham with Champagne and Vanilla Glaze Recipe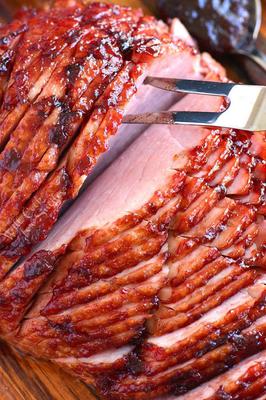 Glazed Ham
How to make Ham with Champagne and Vanilla Glaze

Yield: 30 servings (serving size: 3 ounces ham and about 1 1/2 teaspoons sauce)

Much of the flavor from the Champagne and vanilla bean seeds ends up in the pan drippings, which are then used to create a simple sauce.


Ingredients
1 (11-pound) 33%-less-sodium smoked, fully cooked bone-in ham
24 whole cloves
Cooking spray
1 1/2 cups Champagne or sparkling wine,
divided 1 (2-inch) piece vanilla bean, split lengthwise
1 cup apple jelly
Cooking Directions
Preheat oven to 350°.
Trim fat and rind from ham. Score outside of ham in a diamond pattern, and stud with cloves. Place ham, bone end up, in a roasting pan coated with cooking spray. Pour 1 cup Champagne over ham. Bake at 350° for 45 minutes.
Scrape seeds from vanilla bean into a small saucepan. Add vanilla bean and 1/2 cup Champagne to pan. Bring to a boil; cook 2 minutes. Stir in apple jelly; cook 3 minutes or until jelly dissolves, stirring constantly. Remove from heat. Discard vanilla bean. Pour half of Champagne mixture over ham. Bake 30 minutes; pour remaining Champagne mixture over ham. Bake an additional 30 minutes or until ham is thoroughly heated. Place ham on a platter; cover loosely with foil. Let stand 15 minutes.
Place a zip-top plastic bag inside a 2-cup glass measure or bowl. Pour drippings into bag; let stand 10 minutes (fat will rise to the top). Seal bag; carefully snip off 1 bottom corner of bag. Drain the drippings into a bowl, stopping before the fat layer reaches opening; discard fat. Serve sauce with ham.
Note
Pairing ham with wine takes some care. But this recipe, oriented as it is to vanilla and apple flavors, takes the ham in a Chardonnay direction. Like this dish, Chardonnay has vanilla and apple flavors, and its light sweetness mirrors that of the ham.