Frozen Vanilla Custard Recipe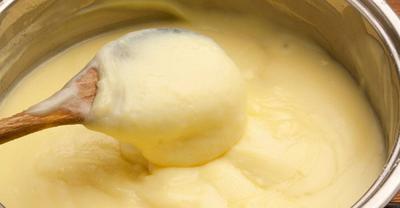 Frozen Vanilla Custard
How to make Frozen Vanilla Custard

Prep Time: 16 Mins
Total Time: 4 Hours 39 Mins
Yield: Serves 8 (serving size: 1/2 cup)

Ice cream and sorbets are convenient go-tos when you want an easy dessert. Use this custard as a base for many flavors by adding your favorite ingredients when it's almost frozen.


Ingredients
2 cups milk 1/2 cup half-and-half
1/2 cup sugar
5 large egg yolks
1/8 teaspoon salt
1/2 teaspoon vanilla extract
Directions
Cook milk and half-and-half in a heavy saucepan over medium-high heat to 180° or until tiny bubbles form around edge (do not boil). Remove from heat.
Combine sugar and egg yolks in a large bowl, stirring with a whisk until thick and pale. Gradually add hot milk mixture to egg mixture, stirring constantly with a whisk. Return milk mixture to pan. Stir in salt; cook over medium heat 10 minutes or until thick, stirring constantly. Remove from heat; stir in vanilla.
Place pan in a large ice-filled bowl until custard is chilled (about 1 hour), stirring occasionally.
Pour mixture into the freezer can of an ice-cream freezer; freeze according to manufacturer's instructions. Spoon frozen custard into a freezer-safe container; cover and freeze 3 hours or until firm.
Author: OXMOOR HOUSE