Fried Banana Ravioli with Vanilla Custard Sauce Recipe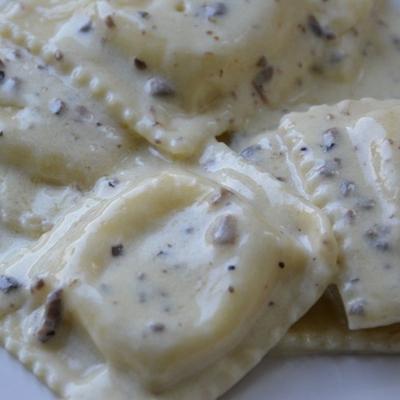 Fried Banana Ravioli with Vanilla Custard Sauce
How to make Fried Banana Ravioli with Vanilla Custard Sauce

This is a dessert version of classic fried savory ravioli, dressed up with custard sauce.

Yield: 16 Servings


Ingredients
3/4 cup finely chopped peeled ripe bananas
1/4 cup (packed) golden brown sugar
1/4 cup graham cracker crumbs
2 tablespoons finely chopped walnuts
2 tablespoons finely chopped pecans
16 wonton wrappers
1 large egg, beaten to blend
Vegetable oil (for frying)
Powdered sugar (optional)
Directions
Gently mix bananas, brown sugar, graham cracker crumbs, walnuts and pecans in medium bowl (do not mash bananas).
Lay wonton wrappers on work surface and brush edges with egg.
Spoon 1 1/2 heaping teaspoons banana filling into center of each wrapper. Fold wrappers diagonally over filling. Press edges to seal. Place on baking sheet lined with plastic wrap. (Ravioli can be prepared 6 hours ahead. Cover with plastic and refrigerate.)
Add enough oil to heavy large skillet to reach depth of 2 inches.
Heat over medium heat to 350°F. Working in batches, add ravioli; cook until golden brown, about 45 seconds per side.
Using slotted spoon, transfer to paper towels; drain.
Arrange ravioli on serving plate and dust with powdered sugar, if desired. Serve with Vanilla Custard Sauce.