French Vanilla scented Glycerin Bar Soap Recipe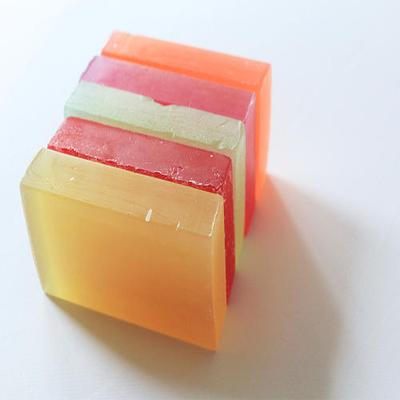 Glycerin Bar Soap
Glycerin soaps are soaps that contain glycerin, a component of fat or oil. They are recognizably different from other soaps because they are translucent.

The clarity is due to the alignment of the soap molecules, which can be induced through the addition of alcohol and sugar. This is usually done for homemade glycerin soaps that are not remeltable.

The process for making glycerin soaps was well known as of 1857 in the Western world. In modern industrial soap-making, the glycerin is usually separated from the soap to be resold and used in a wide variety of areas such as for personal care products, pharmaceuticals, chemical intermediates, and food processing.


How to make Vanilla Glycerin Bar Soap
French Vanilla Scented Soap
Prep: 40mins
Total: 40 mins
Ingredients
Soap Base
Dye
French Vanilla Fragrance/Essential Oils
Silicone Molds
1 teaspoon Coconut oil (optional)
Microwave Friendly Container
Spoon
Directions
Remove the soap base from the container and cut it in half.
Return the unused portion to the container and put that away, then proceed to cut up the other portion into small cubes.
Deposit the cubes into your microwave-friendly container.
Place in microwave at twenty to thirty-second intervals.
Remove from microwave and mix during each break; just to make it easier to melt.
Once it's completely melted, remove it from the microwave;
This is where you'll have to work quickly because it will soon begin to harden (but it's hot so be careful!).
First, get your French Vanilla scent and allow it to drip into the melt (about 20 to 30 drops should do it because you want that soap smelling amazing!).
Then if you want the moisturizing effect, add the coconut oil and mix well.
The colors are really pigmented so be sure to note that a little goes a long way. Pour and mix until you're satisfied with the shade.
Now set the molds on a hard cutting board or some moveable hard surface, because moving the molds (with the liquid) without a hard surface underneath will be a pain in the butt.
Pour the liquid into the molds.
If you don't want small bubbles to appear on the back of the soap, then spray it with rubbing alcohol after pouring it into the molds.
Refrigerate for thirty minutes or longer depending on the size of your molds.
Once hardened, pop them out and pat yourself on the back because you just made your very own soap.
Cleaning up
Soak your microwavable container and spoon in water (doesn't matter if its warm or not). After ten minutes run your fingers along the surface of your wares and the thin film of hardened soap will literally slide right off.