French Vanilla Pastry Cream or Creme Patisserie Recipe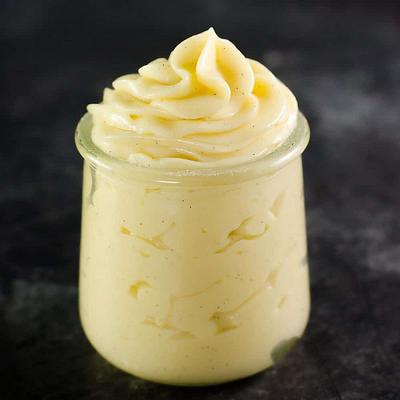 French Vanilla Pastry Cream / Creme Patisserie
How to make French Vanilla Pastry Cream or Creme Patisserie

Course – Dessert
Cuisine – French
Prep Time: 5 mins
Cook Time: 10 mins
Total Time: 15 mins
Yield: 4 CUPS


Vanilla pastry cream is also known as Crème pâtissière in French. It is a perfect base for many desserts such as fruit tarts, mousses, Bavarian creams, ice-cream, and more.

This simple, easy and effortless recipe is made by tempering egg yolks with hot milk then cooking it gently to achieve a smooth, creamy and velvety cream. And this is the only pastry cream recipe you will ever need.


Equipment /Tools
Saute Pan 3 Quarts (Calphalon)
Mixing Bowl Glass
Spatula
Sieve
Whisk
Plastic wrap
Ingredients
6 Egg yolks large
150 grams Granulated sugar
4 tbsp Cornstarch
750 ml Whole milk
1 Vanilla bean OR
1 tsp Vanilla bean paste
1/2 tsp Salt
Directions
Heat the milk in a saucepan
Pour milk in a heavy bottom saucepan over medium heat.
Cut the vanilla bean in half length way, open the pod and scrape the seed.
Add the post and the seeds to the milk.
Let the milk come to an almost boil.
Whip the egg mixture – bowl
Use a bowl large enough to accommodate the milk.
Place egg yolks, sugar, salt, and cornstarch/cornflour.
Whisk until light and almost foamy. You want to get the sugar to almost dissolve.
Once the milk is ready. Reduce heat. Remove the pot of milk from the heat.
Combine the yolks with the milk (tempering)
When the milk has reached an almost boil. Lower the heat and remove the saucepan from heat.
Carefully and gently – pour some of the milk into the egg mixture while still continuously stirring or whisking to prevent the eggs from curdling.
Once more than half the milk has been poured into the eggs mixture the eggs have been tempered.
Now transfer all the milk and egg mixture back into the saucepan.
Thicken the pastry cream
Place the pan back on medium-low heat and continue to cook the pastry cream stirring all the time.
The liquid will transform from a foamy liquid to a thick custard with no foam at all.
When the pastry cream is thick and coats the back of a wooden spoon or spatula you can take it off the heat.
Pour through a mess or sieve – discard the vanilla bean and scrapings as well as any curdled eggs.
Let cool completely before you store in the fridge or use as stated in the desired recipe.
Notes
Vanilla pastry cream has to be stored in the fridge because it contains eggs and milk. Never leave creme patisserie at room temperature.
Always place the plastic wrap over the surface of the pastry cream, this will prevent a skin from forming.
This can be stored in the fridge for 3 to 4 days only.
You cannot freeze creme patisserie because when thawed it tends to break down. The starch and egg protein separate.