French Vanilla Coconut Macaroon Bars Recipe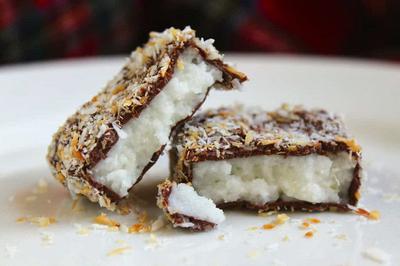 Macaroon Bars
How to make French Vanilla Coconut Macaroon Bars

Yield: 24 Servings


Ingredients
1 kg Pillsbury Moist Supreme French Vanilla Cake Mix
1/3 cup Butter
2 tablespoons Water
1 teaspoon Vanilla
1 Egg
1 1/2 cups Coconut
1/2 cup Semisweet chocolate chips
Instructions
Heat oven to 350'. Spray 13x9 inch pan with cooking spray. Place cake mix in large bowl. With pastry blender or fork, cut in butter until mixture resembles coarse crumbs. Add water, vanilla and egg; blend well. Stir in coconut; mix well. Press dough evenly in sprayed pan.
Bake at 350' for 16 to 22 minutes or until bars are golden brown and edges begin to pull away from sides of pan. Cool 15 minutes.
Melt chocolate chips and drizzle over bars.
Cool and cut.