Eggless Vanilla Cupcake Recipe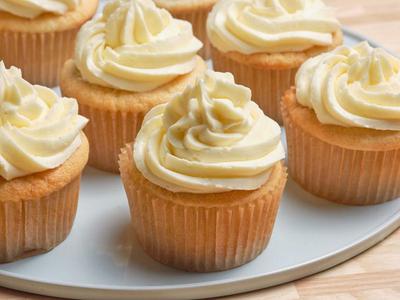 Vanilla Cupcake with Frosting
How to make Eggless vanilla cupcakes

Simply perfect Eggless Vanilla Cupcakes topped with a creamy Vanilla Buttercream Frosting.

Prep Time: 15 minutes
Cook Time: 15 minutes
Total Time: 30 minutes
Yield: 12 cupcakes


Ingredients
1.25 cups all purpose flour
2 tablespoons cornstarch
1/4 teaspoon salt
1/4 + 1/8 teaspoon baking soda
1 teaspoon baking powder
3/4 cup powdered sugar
1.25 teaspoons vanilla extract
1/3 cup canola oil
1 cup milk mixed with 1 tablespoon white vinegar, or use 1 cup buttermilk
Vanilla Buttercream Frosting
1/2 cup salted butter, at room temperature
3 cups powdered sugar
1.5 teaspoon vanilla extract
3-4 tablespoons cream/milk
pink food color, optional
Directions
Eggless Vanilla Cupcakes
Pre heat oven to 350 F degrees. Line a 12 count muffin tray with cupcake liners or spray with a non-stick spray. Set aside.
In a bowl whisk together all purpose flour, cornstarch, baking powder, baking soda and salt.
Sift the mixture twice. Set aside.
Meanwhile mix 1 cup milk with 1 tablespoon white vinegar and set aside for 5 minutes while it curdles. (or use 1 cup buttermilk)
Using paddle attachment of your stand mixer or using your hand mixer, mix together oil and powdered sugar. Mix till creamy and well combined.
Add vanilla extract and mix.
Start adding the flour mix and milk-vinegar mixture in parts. Start by adding one part of the flour mix, then add one part of the milk-vinegar mixture.
Add the flour-mix in 3 parts and milk-vinegar mixture in 2 parts, starting and ending with flour mix.
Mix till all is well combined but do not over-mix. The batter is now done.
Using an ice cream scoop (or any spoon), fill the cupcakes liners 2/3 full with the batter.
Bake at 350 F degrees for 15-18 minutes or till toothpick inserted in the center comes out clean.
Remove cupcakes from oven and transfer onto a wire rack to cool completely.
Vanilla Buttercream Frosting
Using the paddle attachment of your stand mixer or using your hand mixer, beat room temperature butter for 5 minutes till smooth and creamy.
Now add powdered sugar, 1 cup at a time, mixing after each addition.
Add vanilla extract, milk/cream and mix.
Add food color (if using) and mix.
Once everything is nice and combined, beat the buttercream at medium speed for 5 minutes to make it all fluffy and creamy.
Frost the cooled eggless vanilla cupcakes with the prepared vanilla buttercream frosting and enjoy.
Recipe Notes
You can use Salted or Unsalted Butter.
Author: Manali