Eggless chocolate pudding with vanilla - Recipe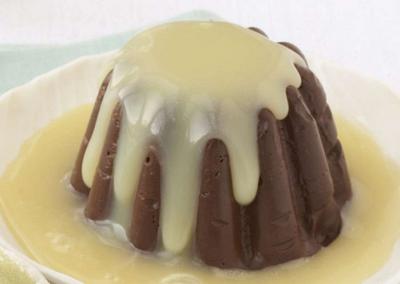 Chocolate Pudding with Vanilla Sauce
How to make Eggless Chocolate Pudding with Vanilla Sauce

Yield: 4 Servings


Ingredients
For chocolate pudding
2.5 cups Milk
4 tbsp Sugar
3/4 cup Chocolate chips refer notes
4 tbsp Cornflour heaped
1/2 tsp Vanilla essence
For Vanilla sauce
1 cup Milk
1 tbsp Sugar
1/2 tin of 395 gms Condensed milk
4 tsp Cornflour
1/4 cup Water
1/2 tsp Vanilla essence
50 gms Butter refer notes
Directions
Pudding preparation:
Grease a pudding dish with butter & keep aside. Add 4 tbsp heaped cornflour to 1/2 cup milk. Mix well without any lumps and keep it aside. Combine remaining 2 cups of milk, 4 tbsp of sugar & 3/4 cup of chocolate.
Keep stirring & bring this to a boil, reduce the heat and add the cornflour milk mixture to this. Stir continuously till it becomes a thick & pouring consistency.
The chocolate should also be melted by now. Remove from fire and add vanilla essence. Mix well. Pour this pudding mixture to the prepared pudding dish. Let it cool to the room temperature. Refrigerate it for 4-5 hours.
Vanilla sauce preparation:
Add 4 tsp of cornflour to 1/4 cup water & mix well without lumps, keep it aside. Combine 1 cup of milk, 1 tbsp of sugar and 1/2 tin of condensed milk. Stir well & let it boil.
Reduce heat and gradually add the cornflour mixture. Mix & cook till you get the consistency of a sauce. Add vanilla essence & mix well. Remove from fire.
Add chopped butter to the sauce & stir till it melts. Cool it to room temperature. Refrigerate and serve with chilled pudding.
Notes
You can use any cooking chocolate (grated or cubed) instead of chocolate chips. I used milk chocolate chips. Though the original recipe uses 50 gms of butter, I used only 25 gms for the vanilla sauce.
You can make this a day or two in advance & refrigerate it.
You can also serve the pudding with whipped or fresh cream instead of vanilla sauce.
Once the pudding is set, unmold the pudding to a serving dish and pour the vanilla sauce over the pudding.
Recipe source: Lakshmi Nair, Magic Oven, Kairali TV