Easy Vanilla Slice Recipe - Pastry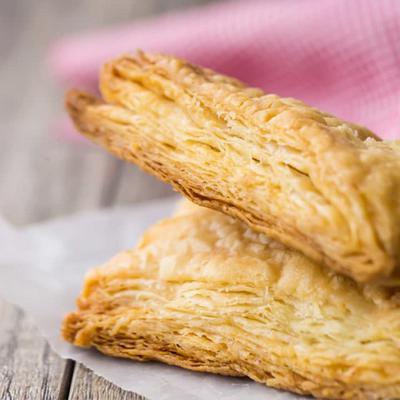 Pastry
How to make Easy Vanilla Slices

Vanilla Slices are also called Custard Slice, Millefeuille, Napoleon, gosh, the list is endless. Typically, there should be three layers of puff pastry and then in between, there would be pastry cream, whipped cream, powdered sugar, or an icing glaze.

It really does vary from country to country, and if you ever visit New Zealand, then you need to call this a Passionfruit Slice!

Prep Time: 15 mins
Cook Time: 15 mins
Total Time: 30 mins
Servings: 6


Ingredients
The Pastry
17 oz Package or 180 g of frozen puff pastry sheets thawed.
slice I cut each Vanilla into approx 5 inches long by 2.5 inches wide. 12.5 cm, 6 cm, you can cut them to suit
The Filling
1/4 cup or 75 g white sugar
3 Tablespoons custard powder I use Bird's Custard powder
1/4 cup or 35 g cornstarch
1 3/4 cups or 465 ml milk
1 1/2 Tablespoons butter
1 egg yolk
1/2 teaspoon vanilla extract
The Sugar Icing
1/4 cup and 2 tablespoons or 45 g powdered / icing sugar
1 teaspoon milk
a drop vanilla extract
Topping : Strawberries or other berries optional
Cooking Directions
Preheat the oven to 400 F / 200 C. Unfold puff pastry sheets, and place flat onto baking sheets. Bake for 10 to 15 minutes, or until lightly browned and puffed.
When cool enough to handle, place the pastry on to a cutting board and cut rectangles of even sizes. You need 12 rectangles. Once cut, set aside.
** Remember, there will be a bottom layer and a top layer of pastry. I cut my pastry in to approx 5 inches (12.5 cm) long by 2.5 inches (6 cm) wide, so I had 12 rectangles.
In a pan, add the sugar, custard powder, cornstarch and some of the measured milk to combine to a thick paste. Then add the remaining milk. Place on a medium heat and keep stirring until thick. Add the butter and combine. When the custard starts to simmer, remove from the heat and add the vanilla extract and then the egg yolk, and stir very well. Allow to cool.
Line a suitable baking dish with aluminum foil and also up the sides of the dish so you can lift the slices out later. Place 6 of the baked pastry rectangles in the bottom of the dish, pack them so they are a tight fit. If you don't have a pan to fit the rectangles, you can use the foil and bring it up the side to keep the custard from spilling off the pastry. The photo below shows you I had to do that with the foil as my pan was too big.
Spread the custard filling in an even layer over the pastry, then place the other pieces of pastry on top. Select the nicest side to make the surface!
In a cup, add the powdered sugar and milk, and vanilla extract and stir until a paste. Spread this icing over the top of the pastry. I use a brush so it is even. Place the slices in the fridge until set. When firm, use the sides of the foil and lift from the dish, and slice to the sizes you wish.
When ready to serve, top with strawberries or leave as they are.