Double Berry Vanilla Cream Pie Recipe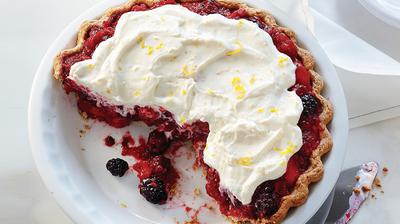 Double Berry Pie
How to make Double Berry Vanilla Cream Pie

Prep Time: 25mins
Chill Time: 3 hrs to 5 hrs
Bake Time: 10 -12 mins
Yield: 8 servings


Ingredients
Toasted Almond Crust or pastry for a single-crust 9-inch pie
1 4-serving size package regular vanilla pudding mix
1 3/4 cups milk
1/2 cup dairy sour cream
1 10 - ounce package frozen strawberries in syrup, thawed
1 tablespoon cornstarch
5 cups strawberries, hulled
1 cup blueberries
Sweetened whipped cream
Directions
Prepare Toasted Almond Pastry or Pastry for Single-Crust Pie. On a lightly floured surface, roll out to a 12-inch circle.
Transfer to a 9-inch pie plate.
Trim 1/2 inch beyond edge of pie plate; fold under extra pastry and flute edge. Prick bottom and sides of crust. Bake in a 450 degree F oven for 10 to 12 minutes. Cool.
For cream filling, cook vanilla pudding mix according to package directions, except use the 1-3/4 cups milk for the liquid. Cool pudding for 10 minutes. Fold in the sour cream. Spread into bottom of the cooled pie crust. Cover with plastic wrap; chill for 1 hour or until firm.
For glaze, place thawed strawberries in a blender container; cover and blend until nearly smooth. In small saucepan, stir puree into cornstarch. Cook and stir until thickened and bubbly. Cook and stir for 2 minutes more. Remove from heat. Cover surface with plastic wrap. Cool to room temperature.
To assemble pie, arrange half of the fresh strawberries, stem ends down, over cream layer in pie crust. Sprinkle with half of the blueberries. Drizzle 1/3 of the glaze over the berries.
Arrange the remaining berries over this layer. Drizzle remaining glaze over berries. Cover and chill for 2 to 4 hours. Serve immediately with whipped cream.
Notes
Nutrition Note: You can lower the fat in this fresh-fruit pie without anyone noticing by using non-fat dairy sour cream instead of the regular sour cream, as well as 1-1/2 cups nonfat milk and reduced-calorie pudding mix.
Toasted Almond Crust
Ingredients
1 1/4 cups all-purpose flour
1 tablespoon sugar
1/4 teaspoon salt
1/3 cup shortening
1/4 cup finely chopped toasted almonds
3 - 4 tablespoons water
Directions
In a mixing bowl, combine flour, sugar and salt. Cut in shortening until pieces are the size of small peas. Stir in toasted almonds.
Sprinkle 1 tablespoon water over part of the mixture; gently toss with a fork. Push to side of bowl.
Repeat using 2 to 3 tablespoons more water until all is moistened. Form dough into a ball.