DIY instant Vanilla Pudding Mix Recipe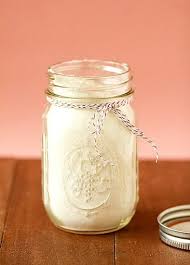 DIY instant Vanilla Pudding Mix
DIY instant Vanilla Pudding Mix Recipe
Prepared vanilla pudding

Prep: 5 min
Cook: 10 min
Total: 15 min
Yield: 20-25 Servings (ENOUGH FOR 5 BATCHES OF PUDDING)
Course: DESSERT
A make ahead, mix for when you need pudding


Ingredients
1cup granulated sugar
¾cup cornstarch
¾cup nonfat dry milk powder
1 teaspoon kosher salt
2 whole vanilla beans
Directions
In a medium bowl, whisk together the sugar, cornstarch, milk powder, and salt; set aside.
Split open the vanilla beans and use the back of a knife to scrape out the seeds. Add the seeds to the sugar mixture, and again whisk well to evenly combine, using a fork or the back of the spoon to break up any chunks of vanilla bean seeds. Cut the empty vanilla bean pods into two or three pieces each.
Place the vanilla bean pieces into an airtight container or jar, and add the sugar mixture. Seal it, and then give it a few good shakes to distribute the vanilla bean pieces evenly. Store in a cool, dry place.
To make pudding: Combine 2 cups of milk with ½ cup of the instant pudding mix in a medium saucepan over high heat, whisking constantly.
Bring to a boil, and then immediately reduce the heat to a simmer and continue whisking until the mixture thickens and coats the back of a spoon (about 3 to 5 minutes).
Let sit for at least 5 minutes before serving. Store leftovers in an airtight container in the refrigerator.
Cuisine: AMERICAN
Author: MICHELLE