Crunchy Vanilla Hazelnuts Recipe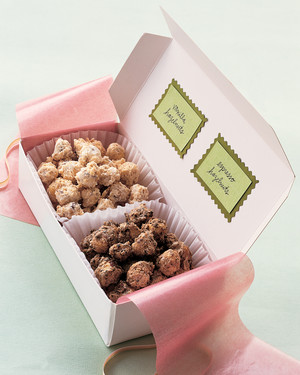 Crunchy Vanilla Hazelnuts
How to make Crunchy Vanilla Hazelnuts


Ingredients
6 cups hazelnuts (about 1 3/4 pounds)
1 vanilla bean, split lengthwise
2 cups sugar
4 large egg whites
1/2 teaspoon salt
2 tablespoons coffee-flavor liqueur
Cooking Directions
Preheat oven to 250 degrees, with racks in upper and lower thirds. Spread hazelnuts on two rimmed baking sheets. Toast in oven, stirring halfway through, until fragrant and skins begin to crack, about 20 minutes. Remove from oven; leave oven on. While nuts are still hot, place in a kitchen towel; rub to remove skins. Let cool.
Scrape vanilla seeds into a small bowl. Stir in sugar; set aside. In the bowl of an electric mixer, whisk egg whites and salt until frothy. Pour in sugar mixture; whisk until thick and foamy. Whisk in liqueur; fold in nuts. Spread mixture on two baking sheets lined with Silpat baking mats.
Bake, stirring every 10 minutes, until nuts are golden, about 50 minutes. Let cool 10 minutes, then transfer to another baking sheet; let cool 6 hours or overnight.
Notes
To make espresso hazelnuts, fold one-half cup plus two tablespoons freshly ground espresso beans into egg whites just before adding hazelnuts. Nuts can be stored in airtight containers at room temperature up to 5 days.