Chocolate/Choco Vanilla Cake Recipe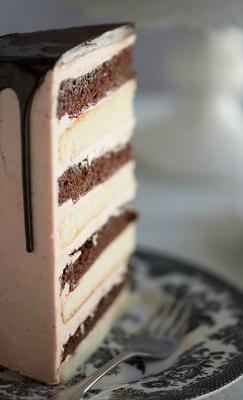 Chocolate-Choco Vanilla Cake
How to make a Chocolate/Choco Vanilla Cake

Prep Time: 25 minutes
Cooking Time: 30 minutes


Ingredients
2 ¾ cups all-purpose flour
½ cup unsweetened cocoa powder
1 teaspoon baking soda
2 teaspoons baking powder
1 teaspoon kosher or coarse salt
3 large eggs
1 cup (2 sticks) unsalted butter, melted
2/3 cup granulated sugar
½ cup brown sugar
2 teaspoons vanilla extract
1 cup Greek yogurt or sour cream
1 cup cold water
One Pot Chocolate Frosting:
6 tablespoons unsalted butter
1 cup chopped bittersweet chocolate (semisweet will make it too sweet)
½ teaspoon kosher salt
1 teaspoon vanilla extract
3 cups confectioners' sugar
¼ cup milk, plus additional as needed
Directions
Preheat the oven to 350°F. Butter and flour two 9-inch round baking pans.
Make the cake: In a medium bowl stir together the flour, cocoa powder, baking soda, baking powder and salt. Set aside.
In a large bowl, whisk the eggs, then add the butter and the granulated and brown sugar and whisk to combine. Add the vanilla, yogurt and water and whisk to blend well. Dump in the flour mixture and whisk to combine (you can also do this with a mixer on low speed). Turn the mixture into the two prepared cake pans, dividing the batter evenly, and smoothing the top with a spatula.
Bake the cakes for 25 to 30 minutes, or until a wooden skewer or toothpick inserted in the center of the cakes comes out clean. Cool the cakes in the pans on wire racks for 15 minutes, then turn the cakes out of the pans and finish cooling them on the racks.
Make the frosting: In a small saucepan melt the butter and the chocolate over low heat, whisking frequently until he chocolate is melted. Whisk in the salt and vanilla, then add the confectioners' sugar and ¼ cup milk and whisk until everything is creamy and smooth. If you want really fluffier and you don't want to break a sweat, grab that electric mixer and beat away.
Frost the cakes with the frosting.