Carrot pudding with Vanilla Sauce Recipe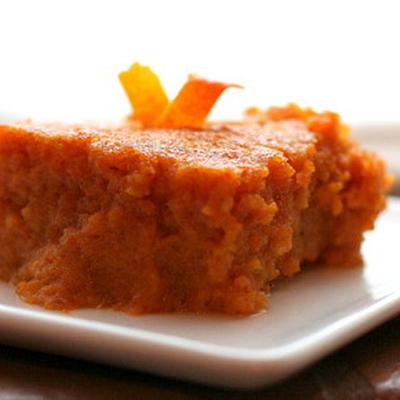 Carrot Pudding
How to make Steamed Carrot Pudding with Vanilla Sauce

Prep Time: 30 min
Cook Time: 50 min
Total Time: 1 hour 20 min
Yield: 6 servings


Ingredients
Carrot Pudding
1 cup coarse dry bread crumbs panko bread crumbs work well
1 cup brown sugar packed
1 teaspoon baking powder
1 teaspoon baking soda
1/4 teaspoon salt
1 teaspoon ground cinnamon
1/2 teaspoon allspice
1/2 teaspoon ground nutmeg
1 large egg
1 cup raisins dark or golden
1 cup peeled and grated raw potato
1 cup peeled and grated carrot
1 cup peeled diced apple
1/4 cup butter melted
Vanilla Sauce
1/2 cup granulated sugar
2 tablespoons cornstarch
1 cup water
Pinch salt
2 tablespoons butter
1-2 tablespoon vanilla extract
Directions
Preheat oven to 350 F. Grease a covered baking dish.
In a large bowl, stir together bread crumbs, brown sugar, baking powder, baking soda, salt, cinnamon, allspice, and nutmeg.
Stir in egg.
Add raisins, potato, carrot, and apple. Stir to combine.
Stir in butter.
Pour carrot mixture into baking dish.
Cover, and bake for about 40-50 minutes.
To make the vanilla sauce, whisk together sugar, cornstarch, water, and salt in a saucepan.
Heat, stirring regularly, until thickened
Remove from heat, and stir in butter and vanilla.
Serve pudding warm topped with vanilla sauce.
Author: i Heart Eating