Buying a Tafe 1002 tractor while in Uganda
by Edwin,+256704515368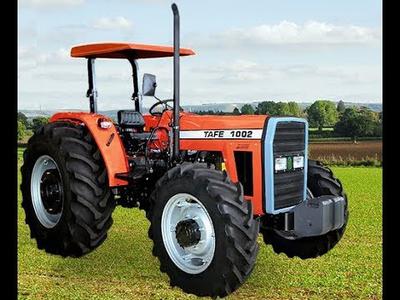 Tafe 1002 tractor is a new entrant in the Ugandan tractor market and is mainly used for a number of things in Uganda like ploughing in farms, government projects and hiring services.


Buying a Tafe 1002 tractor from a local Ugandan dealer or bond
Tafe 1002 tractor is a new tractor in Uganda with an authorised distributor in the country. So if you feel you need a Tafe 1002 tractor, you will have to go the authorised dealer to buy yourself one. You will get all the advice you need from the dealer or distributor about the tractor. Another advantage about buying your Tafe 1002 tractor from the country distributor is that you get to enjoy servicing from the real company as a promotion or bonus something that you may not get from a seller who is not out of the country.
Importing a Tafe 1002 tractor in Uganda
If you want to import for yourself a Tafe 1002 tractor then you have a lot to consider. This is so because Tafe 1002 tractor has an authorised dealer in Uganda. We have had some people in spite of this still insist on importing their own Tafe 1002 tractors. Well, if you are one those few then am certain that you will be referred back the country distributor.
However, you be opting in for a foreign used Tafe 1002 tractor. You can have this guide to help you through the procedure. Just to follow up should you find yourself ordering the Tafe 1002 tractor online. Search and select Tafe 1002 tractor to buy from a Tractor Portal Websites. Send in an Inquiry for the price, condition, etc of the Tafe 1002 tractor. The dealers will respond you directly by Email although some may prefer to call and speak to you.
Watch out for fake e-mails as many scams may con you for money. After that you negotiate with the dealer for a price that fits your budget.
Request for a proforma invoice, place your order and make payment which may be either through bank wire or VISA. The seller will inform you about the following things like the Payment Confirmation, Shipping Schedule, B/L copy, Original Document and then you receive the order in this case the Tafe 1002 tractor.
General Tafe 1002 tractor features or reviews for Uganda
The TAFE 1002 tractor has a highly fuel efficient, Simpson's ST440 E2 – EUII, Engine with Turbo Charger and Inter cooler with Bosch Inline Pump, heavy duty dual clutch, hydrostatic steering, 12 F + 4 R with Partial Synchromesh gear box, live PTO & Mark III Hydraulics with Drafted and Position Controls, Full platform with desk.
For more about the features and specifics of this Tafe 1002 tractor please don't hesitate to get in touch with us.
Click
here to buy or hire a Tafe 1002 tractor and Tafe 1002 tractor spare parts
in Uganda
Availability of Tafe 1002 tractor Spares parts in Uganda
For a tractor brand with an authorised distributor in the country spare parts shouldn't be a problem. However, there are times when they may be readily available ding to be due to high demand. In this case you may encounter some delays as new batches are ordered for and waiting to be imported. Never the less, you the best prices and high quality of the spare parts of the tractor.
Our Conclusion
Compared to other tractor models, the Tafe 1002 tractor is looking a bit dated, with its chunky and upright shape. However, its simplicity helps it stand apart from newer rivals. So, there you are. All the best with your new Tafe 1002 tractor.