Buying a FORD RANGER Pick Up Car in Uganda
by Edwin
(Kampala, Uganda)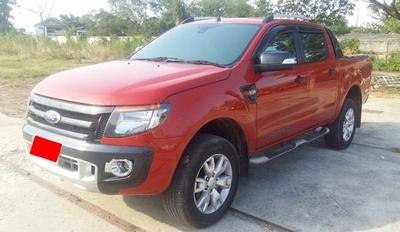 Ford Ranger Pick Up in Uganda Africa

The Ford Ranger is a nameplate that has been used on three distinct model lines of vehicles sold by Ford. Originally, the name was used by the short-lived Edsel Ranger car, then it later referred to a version of the Ford F-Series pickup truck sold in North America between model year 1965 and 1981 that denoted a styling package.

Ford re-purposed the name "Ranger" in 1982 for the 1983 model year for a compact pickup truck sold in North America and, later, parts of South America. Since 1998, Ford has offered a separate model of Ranger sold internationally.



Before you Buy a Ford Ranger
Ford ranger is available in all-wheel drive and two wheel drive, the Ford Ranger gives an excellent performance regardless of the condition of our roads. It also requires considerably low maintenance costs and gets excellent fuel mileage.
This Ford Ranger Pick Up offers relatively bigger cargo volume for vehicles of its size.
Click
here to buy a Ford Ranger Pick Up 2012
in Uganda
Buying a ford Ranger Pick Up 2012 TDCI in a Ugandan car bond
Buying a Ford Ranger from a Ugandan Car bond can cost of up to 150 million Uganda shillings depending on year of manufacture and model. The resale value potential buyers will be giving you after you have used the car and want to sell it off locally could be between 45 million and 30 million Uganda shillings basing on the condition of the car.
Click
here to buy a Ford Ranger Pick Up 2012
in Uganda
Importing a used Ford Ranger 2012 TDCI from Japan
If you're to import a Used Ford Ranger from Japan you may pay averagely about USD 16,000-22,000 depending on condition of the car and model.
However the quoted price typically does not include Freight to Mombasa port and transportation from Mombasa port to Uganda. Additionally it excludes taxes charged by the Uganda Revenue Authority which include Import Duty, Value added (VAT), Withholding Tax, Environmental Levy, Infrastructure Levy, and Registration Fees.
These costs may end up increasing your final cost of Ford Ranger to around USD 100,000 or even more.
Click
here to buy a Ford Ranger Pick Up 2012
in Uganda
Common Problems Owners of Ford Ranger 2012 TDCI face while in Uganda
Shocks and bushes is another problem that keeps tormenting this car as it's basically an urban car. In addition, its spare parts are readily available but expensive.
You can access them from the authorized distributor of Ford vehicles in Uganda. Or you may opt to by the spare parts from Kiseka market where they sale reconditioned spare parts.
Reasons as to why Ugandans buy the Ford Ranger 2012 TDCI
Ugandans typically buy Ford Ranger for corporate and family purposes. In fact a number of government organizations have found this vehicle ideal for their operations. Government Ministries like that of health, agriculture, justice have found the Ford Ranger 2012 TDCI ideal for their work.
Alternative Vehicles to the Ford Ranger 2012 TDCI in Uganda
Some other cars in Uganda you can buy instead of a Ford Ranger include Toyota Hilux 2005, Mitsubishi L200 2006, and Isuzu D-Max pickup 2012.
Click
here to buy a Ford Ranger Pick Up 2012
in Uganda
The interior of Ford of a Ford Ranger 2012 TDCI
The Ford Ranger has a seating capacity of seven (6) people which makes it a good for a family vacation. The steering is power assisted coupled making it easy to steer the vehicle.
That Ford range also has a stylish centre stack console for the climate control and audio (six-speaker MP3/CD/Bluetooth system with voice control and 4.2-inch multi-function display screen), lots of storage bins and nice four-spoke steering wheel.
In addition, the cabin is well-made and comfortable with a spacious and durable interior that genuinely feels like it's built to cope with everyday working life.
Click
here to buy a Ford Ranger Pick Up 2012
in Uganda
Driving experience of the Ford Ranger 2012 TDCI
Good to drive in all conditions, the Ranger benefits from smooth and responsive controls that make it an easy drive on busy motorways or twisty B roads.
It is good off-road when fitted with four-wheel drive, with high and low ratio gearing that make is easy to tackle steep ruts and inclines.
Last words before you Buy a Ford Ranger in Uganda
Ford says: "The Ford Ranger has been ruthlessly tested in some of the most hostile environments, under extreme temperatures, and across the harshest terrain on earth."
This makes this Car a viable truck for Ugandan road conditions.
Click
here to buy a Ford Ranger Pick Up 2012
in Uganda