Blackberry Vanilla Frozen Yogurt Recipe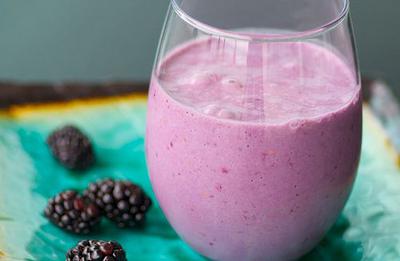 Blackberry Vanilla Yogurt
How to make Blackberry vanilla frozen yogurt

Prep Time: 40min
Total Time: 2 hours 40 min
Yield: 8 Servings


Ingredients
4 (6 ounce) packages fresh blackberries
32 ounces (about 4 cups) non-fat Greek yogurt
2/3 cup granulated white sugar
4 teaspoons freshly squeezed lemon juice
2 teaspoons vanilla extract
Cooking Directions
Place blackberries in a blender or food processor and puree. Place a mesh strainer over a bowl and pour the puree through the strainer.
Use a rubber scraper to press all the juice through until you are only left with seeds in the strainer; discard the seeds.
To the strained blackberry puree, add the yogurt, sugar, lemon juice, and vanilla and mix until well combined.
Place the mixture in the bowl of an ice cream maker (if you have a small ice cream maker you may need to work in batches) and mix according to ice cream maker instructions (about 30 minutes).
Enjoy as soft sever or pour into a freezable container and freeze for 2 to 4 hours to firm up.