Before you buy the Nissan Qashqai in Uganda
by Edwin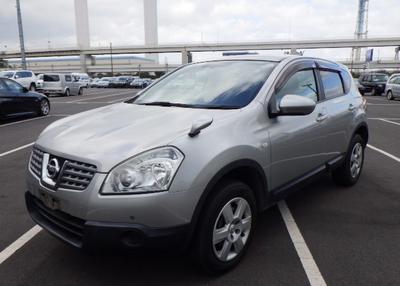 Nissan Qashqai

The Nissan Qashqai is a compact crossover SUV produced by the Japanese car manufacturer Nissan since 2006.

For the first generation, the Qashqai sold under the name Nissan Dualis in Japan and Australia.

Now in its second generation, which was released in 2014, the new model is only badged as Qashqai.



Before you buy the Nissan Qashqai in Uganda
NISSAN's DUALIS (also known as the QASHQAI) is a midsized cross-over SUV.
Conceived under the company's concept of making a 'smart and compact cruiser', the DUALIS does exactly that; although exact features can vary depending on the grade and/or trim, you the buyer can expect to find luxuries like 17 inch allow wheels, xenon headlights, glass sunroof with, leather steering wheel, aluminum cluster gauge accents etc. The engine on offer is a punchy 2000cc petrol unit paired with a cruise-friendly CVT/semi-automatic transmission.
Click
here to buy a Nissan Qashqai or Car spare parts
in Uganda
Buying Nissan Qashqai from a local car bond in Uganda
Buying a foreign used car from a car bond in Uganda makes life a lot easier.
There is basically no need to go to Japan or order for the vehicle from Japan or any other part of the world.
In short you just walk to the car bond make the payment and the car is handed over to you as the new owner.
However, you can also find that some car bonds have cleared only cost, insurance and freight (CIF) for the Nissan Qashqai. So it would mean that if you want this Nissan Qashqai then you will have to clear the rest of the taxes. You can find the CIF of the Nissan Qashqai (that's up Kampala from Japan) to be around $ 3,000 or more.
However, the cost of the CIF can change due to year of manufacture, condition of the car, mileage and the dealer. Now the Nissan Qashqai is more expensive as compared to most the cars we have discussed.
In general, the Nissan Qashqai could eventually cost you around UGX 40,000,000 or more.
Click
here to buy a Nissan Qashqai or Car spare parts
in Uganda
Importing a foreign used Nissan Qashqai from Japan
In case you're to buy a foreign Used Nissan Qashqai from Japan you may have to pay averagely about $ 3,000 and more depending on the condition of the car, model, car dealer you use and year of manufacture.
However, the quoted price typically does not include Freight to Mombasa port and transportation from Mombasa port to Uganda. Additionally, it excludes taxes charged by the Uganda Revenue Authority which include Import Duty, Value added (VAT), Withholding Tax, Environmental Levy, Infrastructure Levy, and Registration Fees.
These costs may end up increasing your final cost of Nissan Qashqai. For example if the Qashqai costs $3,436 in Japan, then its final cost would be $5,636 when delivered to Kampala. When the taxes are computed and added to the CIF, then the total final cost of the car will be around Ugs 40,598,000 ($ 11,200).
Click
here to buy a Nissan Qashqai or Car spare parts
in Uganda
General Nissan Qashqai reviews
Launched earlier this year, the second-generation Nissan Qashqai takes over from where the old one left off but has moved the game on a bit too.
While it may not be as game-changing as the model it replaces, there are significant improvements to the safety and multimedia technology available, not to mention the build quality.
The original Nissan Qashqai was surprisingly fun to drive but the latest model takes a more mature approach.
Levels of noise and vibration in the cabin have been vastly improved, with much less sound from the road and engine making its way inside, particularly on the motorway.
The new Nissan Qashqai is impressively economical, especially the 1.5dCi diesel, which achieves 74.3mpg on the combined cycle and is road tax free thanks to excellent CO2 figures of 99g/km. That means it'll be a cost-effective company car, too.
The 1.6-litre diesel is similarly frugal, claiming 65.7mpg and 115g/km of CO2. Opting for the excellent Xtronic CVT auto on this model only penalises things slightly with 62.8mpg and 119g/km.
If you must have a petrol Qashqai, a 1.2-litre turbo offers the same performance as the old 1.6 and 57.6mpg (129g/km), while a 1.6 turbo will arrive offering 50.4mpg (132g/km). Qashqai prices are on par with rivals but equipment levels tend to be slightly higher, especially in terms of safety kit.
Getting to the interior, technology and design, one thing's for certain: the second-generation Nissan Qashqai looks far more up market than the original model. The overall shape is typical crossover, with a raised ride height, roof rails and black plastic trim giving a familiar rugged off-roader look.
Inside, the Nissan looks sharp and feels well built. There are sporty cowled dials and a full-colour trip computer display, while coloured ambient lighting on the centre console and gloss black trim on the dashboard give an up market feel. The Qashqai's intuitive touch screen infotainment system is as good as you'll find in the crossover class and better than the ones fitted to many premium-badged models. The menu system is simple to get to grips with, giving easy access to audio and sat-nav functions.
The new Qashqai offers more space for passengers and luggage than before in response to owner feedback. Anyone wanting seven seats will have to opt for the new Nissan X-Trail instead.
Click
here to buy a Nissan Qashqai or Car spare parts
in Uganda
Common Problems Owners of Nissan Qashqai face while in Uganda
The 2015 Nissan Qashqai has the most overall complaints, & the most-reported problem is with the 2012 Qashqai for transmission failure.
We don't have a lot of complaints on file for the Nissan Qashqai. It's either not very popular ... or it's very, very good.
Availability of the Nissan Qashqai spare parts in Uganda
Since the Nissan Qashqai has just started becoming popular in Uganda, there are still few demands of reconditioned spare parts.
This is mainly due to the fact that most people who buy the Nissan Qashqai buy brand new vehicles and not the popular foreign used ones.
Click
here to buy a Nissan Qashqai or Car spare parts
in Uganda
My Final verdict about this Ugandan Car
Nissan has improved things with its Safety Shield technology, which features heavily in the new Qashqai.
It comprises clever features like front collision avoidance (autonomous braking), lane departure warning, drowsiness detection, blind spot warning and traffic sign recognition.
There are even cameras to help you park and detect moving objects behind the car when you're reversing – the Qashqai will park itself, too.
So, still thinking of a good family car? There you are..
Click
here to buy a Nissan Qashqai or Car spare parts
in Uganda