Before you buy an Audi A4 in Uganda
by Edwin
(Kampala, Uganda )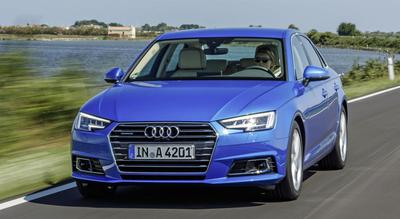 Audi A4

The Audi A4 is the premium mid-sized sedan that combines luxury and fuel economy. It continued the Audi 80 model which started in 1972. The latest model, which is the eighth generation in its line, can be powered by either a 1.8L turbo engine or a 3.2L V6 engine. Fuel economy was greatly improved in a design change that repositioned the front axles and steering gearbox. Choose between the Automatic, CVT (Continuously Variable Transmission), and Manual Transmission model. The Manual Transmission is only until 2001 while the CVT (Continuously Variable Transmission) is only available for 2001 and up. Pick between the Two Wheel Drive and Four Wheel Drive.



Before you buy an Audi A4 in Uganda
The Audi A4 is a line of entry-level luxury cars produced since late 1994 by the German car manufacturer Audi, a subsidiary of the Volkswagen Group. The A4 has been built in five generations and is based on the Volkswagen Group B platform.
Click
here to buy a NAudi A4
in Uganda
Buying a Audi A4 in a Ugandan car bond
Buying an Audi A4 from a Ugandan Car bond can cost up to 40 million Uganda shillings for a recent year of manufacture and latest model. For those that have been used in Uganda for some time can cost around 13 to 19 million Ugandan shillings. Some will even cost lower than 13 million Uganda shillings.
Importing a used Audi A4 from Japan
In case you're to buy a foreign used Audi A4 from Japan mainly you may pay averagely about $ 1,000 – $3,000 depending on the condition of the car, model and the car dealer you use. However, the quoted price typically does not include Freight to Mombasa port and transportation from Mombasa port to Uganda. Additionally, it excludes taxes charged by the Uganda Revenue Authority which include Import Duty, Value added (VAT), Withholding Tax, Environmental Levy, Infrastructure Levy, and Registration Fees, for example, a premium mid-sized Audi A4sedan 2005 model will cost $3,000 will have a CIF total of around $5,263 when delivered in Kampala. Adding the URA taxes will lead to $ 5,877 in total. So adding the CIF and taxes ($5,263 + $ 5,877) gives us $11,140 (38,455,280/-) as the total cost of the car.
Click
here to buy a Audi A4
in Uganda
Common Problems Owners of Audi A4 face while in Uganda
In the 2005 model for example electrical systems registered the highest complaints, followed by fuel system and seat belt/air bags. Engine problems come around too often just like other cars. The 2006 Audi A4 registered one of the worst engine faults.
Reasons as to why Ugandans buy the Audi A4
One will automatically agree that Audi A4 is a prestigious car here in Uganda. It holds class not to mention very rare in the country as only few people own these Germany cars. Audi A4s are bought by people who want something different, classy and unique. Others mainly buy the Audi A4 to commute to work.
Click
here to buy a Audi A4
in Uganda
Other alternatives available in Uganda similar to the Audi A4
The Audi A4 is set to rival the BMW 3 series, Mercedes E-class, Audi A6, Jaguar XF, the American Cadillac CTS, and the Japanese Acura RLX, Honda Legend, Infiniti M, Nissan Fuga and Toyota Crown.
Briefly about the interior of a Audi A4
The Audi A4 DVD navigation system rear side airbags, Bluetooth phone prep, and tire-pressure monitoring are also available. The 2006 Audi for example gets standard leather seats and power front seats. On the four-cylinder car, these are part of the Premium package. An optional audio package includes a Bose premium sound system and pre-wiring for satellite radio.
Click
here to buy a Audi A4
in Uganda
In conclusion
The A4 will be a very nice car to own and run. The integration of tech is convincing in the Audi A4, something that gives no reason to deny it a premium ward!