Before you buy a Volvo XC70 in Uganda
by Edwin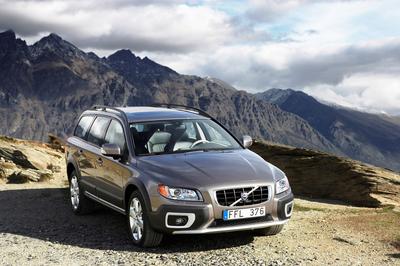 The Volvo XC70 is mid-range cross country model based on its mid-range wagon V70. For cross country purposes, the road clearance is 215mm; 55mm higher than that of V70. The engine is 2.5-Liter in-line-five DOHC (Double Overhead Cam) intercooler turbo gasoline 209ps/32.6kgm (LA-SB5254AWL). The transmissions are 5-speed AT or 5-speed AT with Geartronic function (Manual-like shifting device) with drive train Full-time 4WD (Four Wheel Drive same as AWD). Suspensions are MacPherson strut in front and Multi-link in rear. Safety devices are dual & side airbags and ABS (Anti-lock Brake System) with EBD (Electronic Brake Distribution) for all models.


Buying a foreign used Volvo XC70 from a local Ugandan car bond
There are a number of car bonds in Uganda specifically Kampala from which you can buy your Volvo XC70. However, you have to do good research in order to find a reputable car bond or dealer who will be able to provide you with the car that will meet your needs and above all genuinely imported into Uganda.
You need to look out for prices and discounts. Local car bonds may not charge the same prices for the same car. Prices of the Volvo XC70 may be affected by mileage of the Volvo XC70, condition of the car, model, and year of manufacture.
It is also very important to note that there have been numerous cases of car thefts especially from Europe in particularly from Britain. These cars have been traced up to Uganda and the buyers have fallen in trouble for buying stolen cars.
Click
here to buy or hire Volvo XC70 and buy car spare parts
in Uganda
Importing a foreign Used Volvo XC70 from Japan or other parts of the world
In case if you prefer to import your own Volvo XC70 from say Japan or from Europe, things change a bit. First it would require you to find a trusted dealer or seller in that regard, determine your specific car features and requirements, expected budget you plan to spend on buying the car and well calculated taxes to be paid to the tax authorities in order to clear Volvo XC70.
It is also very important to examine the car upon arrival to check and see if all the car components are included in the car as it was shown to you before buying it. You need to watch out for car spare tires, car jack, radio, navigation systems, window power buttons among other things.
The taxes charged by the Uganda Revenue Authority include Import Duty, Value added (VAT), Withholding Tax, Environmental Levy, Infrastructure Levy, and Registration Fees basing on the CIF of the Volvo XC70 from Japan.
On arrival to Kampala, Uganda, you will have to clear the taxes at The Uganda Revenue Authority (URA), apply and pay for a number plate and then the third party license. You will also notice the some of these charges or fees differ from other vehicles.
Click
here to buy or hire Volvo XC70 and buy car spare parts
in Uganda
General Volvo XC70 reviews for Uganda
The Volvo XC90 is a jacked-up, four-wheel-drive version of the Volvo V70 estate, intended to give some reassuring off-road capability to the practical family wagon. It's a rival for the likes of the Audi A6 Allroad and Volkswagen Passat Alltrack.
Volvo has not made the XC70 look hugely different to the V70 on which it's based. It's simply jacked up the suspension, added some plastic body cladding and fitted metal scuff plates under the front and rear bumpers. The end result does add poise and presence to the car, although it's not exactly attractive. Things are better inside, where Volvo's trademark floating centre console is the stand-out feature. The driver's controls are all user friendly and logically laid-out – particularly the intuitive buttons for the ventilation system.
Volvo estates have always majored on practicality, and the XC70 continues that trend. Rear-seat passengers enjoy plenty of head and legroom, while a low loading lip and flat-folding rear seats mean it's easy to make the most of the 575-litre boot (which expands 1,600 litres with the seats lowered). Clever storage spaces can be found throughout the cabin: there's a rubbish bin in the back and an umbrella holder built into the tailgate.
Click
here to buy or hire Volvo XC70 and buy car spare parts
in Uganda
Availability of Volvo XC70 Spares parts in Uganda
Fortunately there are a number of Volvo funs in Uganda and some have gone a step ahead and imported some of the spare parts for the Volvos. Just in case the spare part you want is not available, these importers are very much willing to import it for you at a reasonable price.
Our Verdict
The Volvo XC70 offers plenty of practicality, comfort and can tackle the rough stuff, too. It has enough boot space, off-road ability and comfortable seats.
Click
here to buy or hire Volvo XC70 and buy car spare parts
in Uganda