Before you buy a Volkswagen Touareg in Uganda
by Edwin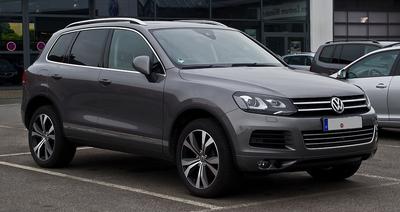 Volkswagen Touareg
The Volkswagen Touareg is a mid-size luxury crossover SUV produced by German automaker Volkswagen since 2002 at the Volkswagen Bratislava Plant. The vehicle was named after the nomadic Tuareg people, inhabitants of the Saharan interior in North Africa.


Before you buy a Volkswagen Touareg in Uganda
The Volkswagen Touareg is the first premium SUV (Sports Utility Vehicle) with three powerful gasoline engines; 3.2-Liter V6 (GH-7LBMVA) with 241ps/31.6kgm, 4.2-Liter V8 (GH-7LAXQS) with 310ps/41.8kgm and 6.0-Liter W12 (GH-7LBJNA) with450ps/61.2kgm.
The transmission for all models is Tiptronic 6AT with paddle-shifting. 5-door with front and 2nd row seats carrying 5 passengers in total. Full-time 4WD with electronic center differential "Multi plate Diff-lock" which distributes torque 50:50 on smooth roads and varies between 0:100 and 100:0 depending on the road conditions.
The characteristic exterior design with aero bumper, side sill extension, roof edge spoiler and chrome front air intake. Steering heater is equipped as well.
Click
here to buy a Volkswagen Touareg or car spare parts
in Uganda
Buying Volkswagen Touareg from a local car bond in Uganda
Buying a foreign used car from a car bond makes life a lot easier to acquire yourself a vehicle. There is basically no need to go to Japan or order for the vehicle from Japan or any other part of the world. In short one just walks to the car bond and arrange for a purchase and within a short time, the car is paid for and handled over to you as the owner.
However, you can also find that some cars have only the Volkswagen Touareg cleared the cost, insurance and freight (CIF) fees only. So it would mean that if you want a Volkswagen Touareg then you will have to clear the rest of the taxes. You can find the cost, insurance and freight (CIF) of the Volkswagen Touareg (that's up Kampala from Japan) to be around $ 6,500 or more for latest models.
However, the fee of the cost, insurance and freight (CIF) can change due to year of manufacture, condition of the car, mileage and the dealer. Now the Volkswagen Touareg is more expensive as compared to most the cars we have discussed. In general, the Volkswagen Touareg 2008 can cost you around UGX 37,000,000 or even more.
Click
here to buy a Volkswagen Touareg or car spare parts
in Uganda
Importing a foreign used Volkswagen Touareg from Japan
Now this is different from buying from car from the car bond here in Kampala. Some people prefer to import their own cars directly from Japan or from any other part of the world.
This means all the costs are going to be met by the owner of the car right from say Japan to Mombasa up to Uganda. Here one needs to determine the cost of the car while still in Japan from which the Cost, Insurance and Freight (CIF) are calculated.
After that, arrangements are made to ship the car to Kampala, Uganda. After arriving in Kampala, then the required taxes have to be cleared.
The taxes charged by the Uganda Revenue Authority include Import Duty, Value added (VAT), Withholding Tax, Environmental Levy, Infrastructure Levy, and Registration Fees. When all this is done, then you are free to drive home in your Volkswagen Touareg.
Click
here to buy a Volkswagen Touareg or car spare parts
in Uganda
General Volkswagen Touareg reviews
Buyers have only one engine to choose from in the Volkswagen Touareg, and it's the same excellent 3.0-litre V6 TDI diesel you'll find in various Audis, as well as other VW Group models.
Recent revisions have raised power to 201bhp in the basic SE and R-Line models or a significantly more useful 258bhp in the Escape version. That more powerful engine is available as an option in the SE and R-Line trims.
About the interior, design and technology, as you'd expect from Volkswagen these days, the cabin of the Touareg is classy and beautifully made. The doors close with a reassuringly solid clunk and the seats are big, broad and hugely comfortable. All the basics are right too, from the clear instrument dials and neatly arranged switch gear to the widely adjustable driving position.
A big, bright, eight-inch touch screen takes pride of place in the centre of the Touareg's dashboard. But while it's simple enough to use, there's no getting away from the fact that it's a generation behind the one you'd get in a Volkswagen Golf - a car that costs a fraction of the price.
Coming to comfort, not many cars can match the Volkswagen Touareg for comfort. Its seats are supremely supportive and on a long journey, the car is probably only beaten by a Volvo XC90 in this respect. This makes the Touareg a great choice for drivers who regularly spend hours behind the wheel.
Availability of the Volkswagen Touareg spare parts in Uganda
When you make a hard search, you can get the spares of the toureg. Most of these spare parts you will happen to find on the market will not be new. They will be reconditioned or got from old used scrapped cars imported in from aboard.
Click
here to buy a Volkswagen Touareg or car spare parts
in Uganda
Final verdict
Volkswagen has an enviable reputation for quality and reliability, and as the Touareg is one of the brand's flagship models, you'd like to think it gets that little bit of extra attention on the production line. This makes the Volkswagen Touareg get you the value for your money.