Before you buy a Volkswagen Amarok Pick-Up in Uganda
by Edwin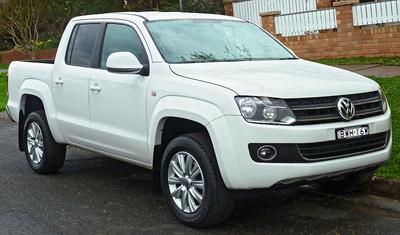 The Volkswagen Amarok is a pickup truck produced by Volkswagen Commercial Vehicles (VWCV) since 2010. It is a traditional body-on-frame truck with double-wishbone suspension at the front and leaf springs at the rear. The Amarok range consists of single cab and double cab, combined with either rear-wheel drive or 4motion four-wheel-drive, and is powered by turbocharged gasoline or turbocharged direct injection (TDI) diesel engines. VWCV considers the Toyota Hilux, Nissan Navara, Mitsubishi Triton, Ford Ranger and Chevrolet/Holden Colorado/S-10 to be Amarok competitors, although it is larger.


Buying a foreign used Volkswagen Amarok Pick-Up from a local Ugandan car bond
The Volkswagen Amarok had a makeover in late 2016 but, rather than undergoing extensive cosmetic surgery, VW's one-tonne pick-up contender opted for a course of steroids instead. The old model's relatively puny 2.0 TDI engine was junked and dealers now offer the Amarok for sale with a meaty 3.0 V6 TDI, which means it boasts the most powerful engine in its class.
Click
here to buy or hire Volkswagen Amarok Pick-Up and buy car spare parts
in Uganda
Buying a foreign used Volkswagen Amarok Pick-Up from a local Ugandan car bond
There are a number of car bonds in Uganda specifically Kampala from which you can buy your Volkswagen Amarok. However, you have to do good research in order to find a reputable car bond or dealer who will be able to provide you with the car that will meet your needs and above all genuinely imported into Uganda.
You need to look out for prices and discounts. Local car bonds may not charge the same prices for the same car. Prices of the Volkswagen Amarok may be affected by mileage of the Volkswagen Amarok, condition of the car, model, and year of manufacture.
It is also very important to note that there have been numerous cases of car thefts especially those from Europe particularly Britain. These cars have been traced up to Uganda and the buyers have fallen in trouble for buying stolen cars.
Click
here to buy or hire Volkswagen Amarok Pick-Up and buy car spare parts
in Uganda
Importing a foreign Used Volkswagen Amarok Pick-Up from Japan or other parts of the world
In case if you prefer to import your own Volkswagen Amarok from say Japan, things change a bit. First it would require you to find a trusted dealer or seller in that regard, determine your specific car features and requirements, expected budget you plan to spend on buying the car and well calculated taxes to be paid to the tax authorities in order to clear Volkswagen Amarok.
It is also very important to examine the car upon arrival to check and see if all the car components are included in the car as it was shown to you before buying it. You need to watch out for car spare tires, car jack, radio, navigation systems, and window power buttons among other things.
The taxes charged by the Uganda Revenue Authority include Import Duty, Value added (VAT), Withholding Tax, Environmental Levy, Infrastructure Levy, and Registration Fees basing on the CIF of the Volkswagen Amarok from Japan.
On arrival to Kampala, Uganda, you will have to clear the taxes at The Uganda Revenue Authority (URA), apply and pay for a number plate and then the third party license. You will also notice the some of these charges or fees differ from other vehicles.
Click
here to buy or hire Volkswagen Amarok Pick-Up and buy car spare parts
in Uganda
General Volkswagen Amarok Pick-Up reviews for Uganda
Let's look at the cab and interior. Many manufacturers claim their commercial vehicle feels 'car-like' from behind the wheel, but the Amarok is one of the few to truly deliver. While there's no getting away from its massive dimensions – the pick-up feels particularly wide on country lanes – the cab is very comfortable. The rear seats provide plenty of legroom for passengers with loads of head room and seat bases that are higher off the floor than in rival trucks so you don't have to bunch your knees up in the back.
Equipment is generous, with even the base Startline featuring heated electric mirrors, electric windows, semi-automatic air-conditioning and a CD/radio. Upgrade to the Amarok Trendline, and you get cruise control, a multifunction trip computer, a six-speaker stereo and two-zone automatic air-conditioning. The steering wheel and gearlever are trimmed in leather, plus there are carpet floor coverings and storage drawers under the front seats, while on the outside are 17-inch alloys. Range-topping Highline models add 18-inch alloys, leather upholstery, heated front seats, front and rear parking sensors, and privacy glass.
The new fascia design is attractive and well put together – especially so for a commercial vehicle – and helps to give the cabin an up market ambience. That's particularly true if you opt for the new touch screen infotainment system, which as well as offering the latest sat-nav set-up allows you to mirror many of the apps from your Smartphone.
Load Space and Practicality. The load bed in the Amarok is one of the largest of any double-cab pick-up available in the Uganda. It has a volume of 2.5 square meters – and although buyers elsewhere in Europe used to be offered a bigger capacity where the Amarok was sold with a single cab, that option has now disappeared altogether.
Still, the double-cab UK model has one of the widest bodies around, and these dimensions pay off with a massive 1.22 metres between the rear wheel arches – enough to take a Europallet sideways in the back. Plus, all versions of the face lifted Amarok will carry in excess of 1 tonne, so customers can reclaim VAT if they're registered. All versions of the Amarok will be able to tow a 3,000kg trailer, with the top-spec version with permanent 4Motion auto capable of pulling up to 3.1 tonnes.
Click
here to buy or hire Volkswagen Amarok Pick-Up and buy car spare parts
in Uganda
Availability of Volkswagen Amarok Pick-Up Spares parts in Uganda
At there are a number of Volkswagen spare parts' importers in Uganda. These can supply you with any spare part you need. If it's not available at that moment then they can lay a number of options for you to get you the spares you need.
Common problems Volkswagen Amarok Pick-Up owners complain about in Uganda
The Amarok has a high price tag in Uganda. Secondly not so many people know how to diagnose mechanical faults of the Amarok. This is so because this kind of pick-up has not been in Uganda before hence very limited skills available.
Our Verdict
Meaty 3.0 V6 engine and quality finish give the Volkswagen Amarok a genuinely premium feel for either your carrying needs or driving pleasure.
Click
here to buy or hire Volkswagen Amarok Pick-Up and buy car spare parts
in Uganda