Before you buy a UG Boss motorbike in Uganda
by Edwin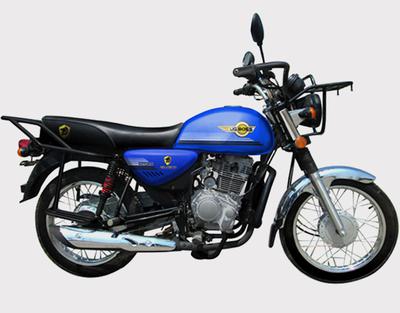 UG Boss is one of the latest entrant into the 90-150 cc motorbike series. It most adored for its low fuel consumption, low maintenance costs, low initial cost and strong engine.


Before you buy a UG Boss motorbike in Uganda
UG Boss is in the range of the Boxer, Bajaj and Yamaha 90-150 cc series. These are the most commonly sought after motorbikes in Uganda today. Unlike its competitors, the UG Boss is mainly bought for private purposes by say private security organizations, delivery companies among others. This is so because the UG Boss is kind of more expensive than its competitors due its strong engine.
Click
here to buy, hire a UG Boss motorbike or UG Boss motorbike spare parts and servicing
in Uganda
Buying foreign used or new UG Boss motorbike from a local dealer in Uganda
Since Ugandans are picking interest in motorbikes like the UG Boss motorbike of late, a number of dealers have decided to import them into the country. You will not find a foreign used UG Boss motorbike as they are only imported brand new into Uganda.
You will need to have a good budget to buy yourself a new taken motorbike. A brand new UG Boss motorbike will cost you around 4.8 million Uganda shillings.
However, out of luck you can find a locally used UG Boss motorbike up for sell. This is very hard though. It can take you ages to come across one being sold as a second hand or locally used. On this note, it is highly advised to buy a new one instead of the locally used since we have them imported brand new into Uganda and payment options are very conducive to low income earners.
Click
here to buy, hire a UG Boss motorbike or UG Boss motorbike spare parts and servicing
in Uganda
General UG Boss motorbike Technical Specifications and features for Uganda
UG Boss specs
Engine
Engine Type: 4 Stroke Single Cylinder
Displacement: 124.6cc
Carburetor: Keihin PZ26
Bore & stroke (mm): 56.5x49.5
Max Power: 7.1KW
Max Torque: 9.7
Compression Ratio: 9:6:1
Fuel System: Petrol 9397 octane
Ignition Model: CDI
Start Mode: Electric And Kick Start
Lubrication System: Pressure, SPLASH
Cooling System: Air cooled
Gear Box: 5 Speed Transmission
Transmission Type: Chain Drive
Clutch Type: Wet Multi-plate
Chassis And Dimensions
Frame Type: Double cradle frame with silent bush engine mountings
Front Suspension: Front Shock Absorber with Rubber Dust Cover
Rear Suspension: Rear Shock Absorber with Progressive Load Springs
Front Tire Size: 2.75x17
Rear Tire Size: 3.00x17
Break Type (F/R): 130mmbigger Drum Brakes
Physical Measurement
Product Dimensions
LXWXH
(MM): 2040x750x1055
Net Weight (KG): 125
Seat weight: (mm): 790
Wheel Base: (MM): 1315
Ground Clearance: (MM): 163
Others
Top Speed: 127km/h
Max Loading: 155KG
Fuel Capacity (l): 11.2
Battery Type: 12V5A
For more of these specifications and features please contact us.
Alternatives of Takken motorbike in Uganda
We have a number of alternatives you can consider while in Uganda and some of the most prominent ones include the Yamaha and Suzuki sports bikes.
Click
here to buy, hire a Takken motorbike or Takken motorbike spare parts and servicing
in Uganda
Availability of the UG Boss motorbike spare parts in Uganda
Spare parts of this UG Boss motorbike are readily available and imported brand new into Uganda. So, we are sure you won't find major issues of spares plus they are affordable.
However you should fail to find what you need for a particular UG Boss motorbike model, please don't hesitate to contact us for assistance in that regard.
Reasons why people buy the UG Boss motorbike in Uganda
Most of the people who buy UG Boss motorbike are those who are interested in getting to work within the shortest time possible, want to spend low on fuel and beat traffic jam in peak hours.
Our Conclusion
The UG Boss motorbike is a very impressive and reliable bike to ride around town especially through the stiff jam of Kampala. It's easy to park, fuel efficient, strong enough to climb up the steep hills to mention but a few. So, if you are that person who wants to beat traffic jam or go upcountry in ragged terrain on a motorbike? Then the UG Boss motorbike may just be what you need.
Click
here to buy, hire a UG Boss motorbike UG Boss motorbike parts and servicing
in Uganda