Before you buy a Toyota Sienta in Uganda
by Edwin
(Kampala, Uganda)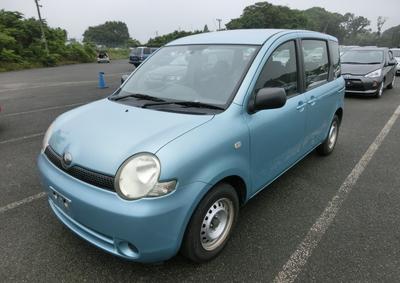 Toyota Sienta

The Toyota Sienta is a small subcompact minivan with sliding doors currently sold only in Japan, Hong Kong, Macao, Tanzania, Singapore, Indonesia, Malaysia, North Korea, Kenya, and Uganda. Introduced in September 2003, it seats 7 despite its very small size.



Before you buy a Toyota Sienta in Uganda
The Toyota Sienta minivan has a perfect balance between space and power. It comfortably seats 7 passengers with an option to adjust the seats in the 2nd row for easier entrance and exit in the vehicle. This is also known as the "walk-in mode." The 1500cc engine grants enough to power both in the highway and in the city streets even if the car is full. It's Front Wheel (FF) and V-flex full-time Four Wheel Drive layout significantly helps you go through smooth corners with overall stability. This minivan features a non-stage combination of CVT (Continuously Variable Transmission) (FF) Front Wheel, Front Engine/4-speed AT (4WD) Four Wheel Drive which aids in fuel economy.
Click
here to buy a Toyota Sienta
in Uganda
Buying a Toyota Sienta in a Ugandan car bond
Buying a Toyota Sienta from a Ugandan Car bond can cost up to 27 million Uganda shillings for a recent year of manufacture and latest model. For those that have been used in Uganda for some time can cost around 15 to 20 million Ugandan shillings.
Importing a used Toyota Sienta from Japan
If you're to buy a Used Toyota Sienta from Japan you may pay between $ 800 – 1,200 depending on the condition of the car, model and the car dealer you use. However, the quoted price typically does not include Freight to Mombasa port and transportation from Mombasa port to Uganda. Additionally, it excludes taxes charged by the Uganda Revenue Authority which include Import Duty, Value added (VAT), Withholding Tax, Environmental Levy, Infrastructure Levy, and Registration Fees. These costs may end up increasing your final cost of Toyota Sienta to around $ 7,000 or even more for later models
Click
here to buy a Toyota Sienta
in Uganda
Common Problems Owners of Toyota Sienta face while in Uganda
Just like many cars in Uganda, shock absorbers and bushes is another problem that keeps tormenting this subcompact minivan.
The good side however, is that spare parts for this car are readily available and affordable.
You can these spare parts easily from kiseka market, Ndeeba and Bwaise areas. My observation is that most car parts from these markets are second hand or "used". So, if you prefer brand new spare parts for your car, then you have to order those parts from abroad.
Reasons as to why Ugandans buy the Toyota Sienta
The car is equipped with only a 4-cylinder in-line engine of 1.5 liters. This engine makes the Sienta so user friendly in terms of fuel cost not to mention its capability to carry up to seven persons raises its rating even much higher.
Click
here to buy a Toyota Sienta
in Uganda
Other compact car options available in Uganda similar to the Toyota Sienta
Some other cars in Uganda one can buy instead of a Toyota Sienta include the Toyota Wish and Nissan cube, Cubic.
The interior of a Toyota Sienta
Legroom between the second and third rows is enough to comfortably could accommodate even large passengers. High second-row seats can climb and slide along the longitudinal axis. Cargo space is expanded by folding backs third seat. The car door mounted various optimization systems, for example, the system Smart Lock, which allows you to open and close the door without pulling the key. Sliding doors and front panel in its central part focused as gauges and switches. The panel is made in the form of an arch, allowing it to maintain the right and left space for passage
Click
here to buy a Toyota Sienta
in Uganda
The Exterior of a Toyota Sienta
With a sporty exterior design inspired by the shape of a trekking shoe, the new Sienta wants to inspire people to get out and about by overturning existing preconceptions of typically square, box-like minivans.
Last thoughts before you pay up a Toyota Sienta
Making a final decision to buy a Toyota Sienta will come down to your personality. Are you more concerned with fuel economy or would you rather feel a bit of exhilaration when you touch the pedal? While we are not recommending the Toyota Sienta, you now have the information you need to make an informed decision. Good luck with your new car!
Click
here to buy a Toyota Sienta
in Uganda