Before you Buy a Toyota Rush in Uganda
by Edwin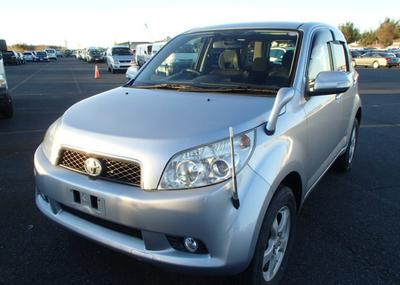 A seven-seater version of the Daihatsu Terios was also offered by Toyota in some countries like Malaysia and Indonesia as a Toyota Rush, Grand Terios in Egypt and as Terios Advantage in some countries like Chile starting February 2008.

The vehicle is imported from Indonesia, manufactured by Astra Daihatsu Motor. Here in Uganda, you can get both vehicles on the market.


Before you buy a Toyota Rush in Uganda
The Toyota Rush can be described as the best compact Sport Utility Vehicle.
It combines three important factors: the performance of a Sport Utility Vehicle, the convenience of a compact car, and the functionality of a wagon. Daihatsu produced and developed this model for Toyota.
With fuel economy in mind, the Rush is equipped with an inline-four 1.5L engine.
You have the option for Automatic Transmission and Manual Transmission.
The Manual Transmission is only available until 2013. Choose between the FR (Front Engine, Rear Wheel Drive or Four Wheel Drive layout).
Just like its sister mini SUV Daihatsu terios, the Toyota rush is a profound car in Uganda.
Small families find this car conducive and those who are single or those who want to ride solo.
The tall body stance and ability to chunk over the plane surfaces is the Rush's attitude and it can be taken over long trips, weekends and on road excursions.
Click
here to buy a Toyota Rush
in Uganda
Buying a Toyota Rush from a Ugandan car bond
Just in case you want to buy a foreign used Toyota Rush from Japan you may have to pay averagely about $ 3,000 or even more depending on the condition of the car, model, car dealer you use and year of manufacture.
However, the quoted price typically does not include Freight to Mombasa port and transportation from Mombasa port to Uganda. Additionally, it excludes taxes charged by the Uganda Revenue Authority which include Import Duty, Value added (VAT), Withholding Tax, Environmental Levy, Infrastructure Levy, and Registration Fees.
These costs may end up increasing your final cost of Toyota Rush to 17,150,885.47 /- of Uganda for a Toyota Rush that has a CIF of $5,136 from Japan.
Common problems owners of Toyota Rush encounter while in Uganda
Apart from the common and minor problems like suspension bushes, shock absorbers, the Daihatsu Terios has other problems, for example, Engine misfiring which could be due to coil pack failure, rear washer jet failure which could be a cause of blockage in the tube, engine management warning light possibly caused due to faulty lambda sensor.
This can also cause a slight increase in fuel consumption and/or a lack of power, when you try to accelerate. Also with just one engine on offer, customers don't really have a choice even if they'd like a bigger unit under the hood.
Click
here to buy a Toyota Rush
in Uganda
Other alternatives available in Uganda similar to the Toyota Rush
We have the Toyota Rush, SsangYong, Daihatsu Terios and Toyota Rav 4
Briefly about the interior of a Toyota Rush
This is few of those mini SUV which provide the ease and practicality of a 3rd row, however, this row comes under the optional package and can be omitted if you are happy with 5 people in your car.
All the seats are wisely padded and they offer enough support. The dashboard is very basic and offers very few sort of options. The infotainment system is limited to a 6.1 inch touch screen display which houses all aspects of a modern stereo console. It can take in USB, Aux, CD and Bluetooth tethering.
The quality of material used is quite basic and won't spark any enthusiastic pulse in the driver as Toyota has devoted its interest in preparing a practical car rather than a glamorous model.
There is ample boot space at the rear and with 2nd and 3rd row folded, one can store motor sport equipment as well into the car. With all seats upright, its boot space measures 380-litres.
Click
here to buy a Toyota Rush
in Uganda
My Last Thoughts about the Toyota Rush
The Toyota Rush is a good car with SUV like looks and feel. It is tall and maneuvers friendly.
It also carries the brand image of Toyota in reliability terms, but doesn't have the impact which other cars of its category posses.
The competitors including Renault Duster and Ford Ecosport have a lot of character towards quality and there the Rush appears a bit stressed out.