Before you buy a Toyota Raum 2005 in Uganda
by Edwin
(Kampala, Uganda)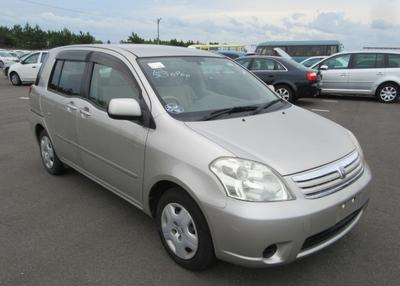 Toyota Raum 2005

The Toyota Raum is a small, 5-seat compact MPV that first appeared in May 1997. The second generation was released in May 2003. A brand new Toyota Raum is currently sold only in Japan at Toyota Netz retail sales channels.



Before you buy a Toyota Raum 2005 in Uganda
The Toyota Raum 2005 is so spacious that to allow 5 adults to stretch their legs and relax. Some editions have even a passage in between seats. This is truly rare among compact cars. In addition, the rear can be slide open, made it easy for getting in and out. The Raum has an efficient 1.5L Engine, served as a great choice for any driver!
Click
here to buy a Toyota Raum 2005
in Uganda
Buying a Toyota Raum 2005 in a Ugandan car bond
Buying a Toyota Raum 2005 from a Ugandan Car bond can cost up to 17 million Uganda shillings for a recent year of manufacture and latest model. For those that have been used in Uganda for some time can cost around 8 to 14 million Ugandan shillings.
Importing a used Toyota Raum 2005 from Japan
If you're to buy a Used Toyota Raum 2005 from Japan you pay between $ 800 – 2,000 depending on condition of the car, model and the car dealer you use. However the quoted price typically does not include Freight to Mombasa port and transportation from Mombasa port to Uganda. Additionally it excludes taxes charged by the Uganda Revenue Authority which include Import Duty, Value added (VAT), Withholding Tax, Environmental Levy, Infrastructure Levy, and Registration Fees. These costs may end up increasing your final cost of Toyota Raum 2005 to around $ 2,000 to $3,000 or even more for later models
Click
here to buy a Toyota Raum 2005
in Uganda
Common Problems Owners of Toyota Raum 2005 face while in Uganda
Just like many cars in Uganda, shock absorbers and bushes is another problem that keeps tormenting this supermini car.
Good enough its spare parts are readily available and affordable at local Uganda Auto spare shops.
Most of the spare parts are second hand and to get brand new spare parts you need to order them directly from Japan.
Reasons as to why Ugandans buy the Toyota Raum 2005
Well, Ugandans buy the Toyota Raum 2005 basically due to it's 1.5 L engine low fuel consumption capacity, it's easy to pack, has low maintenance costs and not as bulky as the SUVs. In addition, it's small enough to fit in many homes with in Kampala which are characterized with no or very limited parking space.
Click
here to buy a Toyota Raum 2005
in Uganda
Other compact car options available in Uganda similar to the Toyota Raum 2005
Some other cars in Uganda one can buy instead of a Nissan March include the Toyota FunCargo, Toyota Spacio, Nissan March, Toyota Vitz and Mercedes-Benz A130. These happen to be the most common supermini cars in Uganda.
The interior of a Toyota Raum 2005
The front passenger seats on a Toyota Raum 2005 can be folded forward to allow passengers easier access to back seats, or can be used for rear passengers foot rest. To fold front passenger seat forward, the seat must slide back as far as possible to allow maximum leg room. Then simply lifting up the latch on the side of the seat should allow for the seat to be folded all the way forward. In addition, its interior was well designed making feel a top notch compact car.
The power options include the Power Window for efficient transition of side glass and Power Steering that gives more control to steering wheel over maneuvering efficiency through tire movement.
Click
here to buy a Toyota Raum 2005
in Uganda
he Exterior of a Toyota Raum 2005
The colors available in the vehicles includes the high price range Raum cars of Red, Blue and Black, while the low price range of White and Silver is also there to support. The Alloy Wheels are made in a way that acts as image booster, with the Roof Rail for additional luggage carriage and much more.
Last thoughts before you pay up a Toyota Raum
Making a final decision to buy a Toyota Raum 2005 will come down to your personality. Are you more concerned with fuel economy or would you rather feel a bit of exhilaration when you touch the pedal?
Whereas we're not necessarily recommending the Toyota Raum 2005, you now have the basics to make an informed purchase decision. Good luck with your new car!
Click
here to buy a Toyota Raum 2005
in Uganda