Before you buy a Toyota Mark X in Uganda
by Edwin
(Kampala, Uganda)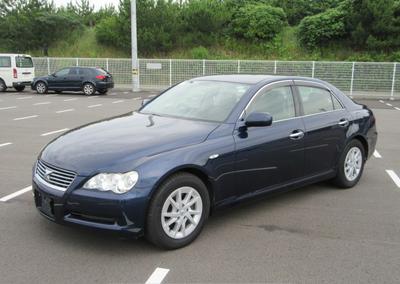 Toyota Mark X 2005 2.5

The Toyota Mark X is an official auto made by Toyota for the Asian business sector. In Japan, it is sold just at Toyopet Store areas. The Mark X was presented in 2004 and is fabricated in Kanegasaki, Iwate, Japan. It is accessible with either a 253 strength (189 kW) 3.0 L or 212 torque (158 kW) 2.5 L GR arrangement V6 motor. Both motors offer double VVT-i (variable valve timing) with gas direct infusion (Japanese models as it were). The back wheel drive models have a 6-speed programmed transmission as standard, and the all-wheel drive models have a 5-speed programmed.



Before you buy a Toyota Mark X in Uganda
The Toyota Mark X is a fair size vehicle, accessible in either rear wheel or all-wheel drive. It is known for its extravagance and effective six-barrel motor. It supplanted the well known Mark II, which has been underway since 1968. With regards to Toyota custom, the Mark X is dependable and reasonable to keep up. Toyota Mark X has steadily gained the reputation among the high-income earners in Uganda.
Click
here to buy a Toyota Mark X
in Uganda
Buying a Toyota Mark X in a Ugandan car bond
Buying a Toyota Mark X from a Ugandan Car bond like Yuasa can cost around to 37 to 40 million Uganda shillings for a recent year of manufacture and model. These have not been used in Uganda before. For those that have been used in Uganda for some time can cost around 2 - 30 million Ugandan shillings.
Importing a used Toyota Mark X from Japan
Considering buying a foreign used Toyota Mark X from Japan mainly you may pay averagely about $ 2,000 – 3,000 depending on the condition of the car, model and the car dealer you use. Some dealers may even state higher prices than $3,000. However the quoted price typically does not include Freight to Mombasa port and transportation from Mombasa port to Uganda mainly Kampala. Additionally it excludes taxes charged by the Uganda Revenue Authority which include Import Duty, Value added (VAT), Withholding Tax, Environmental Levy, Infrastructure Levy, and Registration Fees. These costs may end up increasing your final cost of Toyota Mark X.
Click
here to buy a Toyota Mark X
in Uganda
Common Problems Owners of Toyota Mark X face while in Uganda
The Toyota Mark X has modern technology. This also calls for so many electrification in the car. Many people/ mechanics here in Uganda find it hard fix these faults in case they occur especially due to the fact that most of the foreign used cars don't come with the user's manual.
Reasons as to why Ugandans buy the Toyota Mark X
This car is perfect for those who covet Lexus quality combined with reliability, but perhaps cannot quite afford it. If you can't afford a Mercedes-Benz, Audi A series and other say European executive vehicles.
Furthermore, this car has one of the best interiors. A lot of very nice features such as reverse camera and auto parking, as well as nice LED mood lighting system that will make any who loves to travel executive own one.
Click
here to buy a Toyota Mark X
in Uganda
Other executive car alternatives available in Uganda similar to the Toyota Mark X
We have the Toyota Crown. In recent years, we saw Crown received much greater care from its creator. It got the latest technology like hybrid power train as well as an ever more sporting Athlete model.
Briefly about the interior of a Toyota Mark X
Front seats gained lateral support. Rear - separate adjustment of the slope. The large front panel integrates a large full-color display, and in the dashboard - Optional lighting. It also usually features leather seats, LED interior lighting, DVD player and a back up camera.
Click
here to buy a Toyota Mark X
in Uganda
The Exterior of a Toyota Mark X
The exterior design is beautiful, and is a combination of the Toyota Altezza and Toyota Aristo, looking very luxurious.
My last thoughts abut the Toyota Mark X
Stylish and comfortable executive sedan Toyota Mark X concept model is a complex idea of dynamism, relevance and perfection down to the smallest detail. The car is more efficient and consumes less fuel. Available in three versions, which differ installed equipment, Standard, sports and premium. I think it is an under rated model from Toyota.
Click
here to buy a Toyota Mark X
in Uganda