Before you buy a Toyota IST in Uganda
by edwin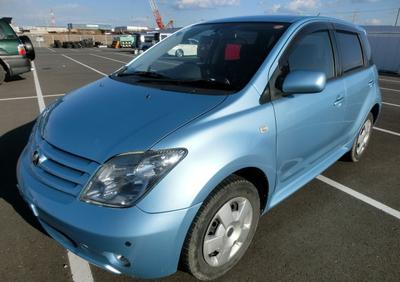 Toyota IST in Uganda

The Toyota IST (marketed with a stylized lowercase 'i') is a subcompact car made in Japan by Toyota. It is exported to the United States as the Scion xA and Scion xD, the Middle East as the Toyota xA and to Europe and Latin America as the Urban Cruiser for the second generation.



Before you buy a Toyota IST in Uganda
The Toyota IST is recognized worldwide for being the perfect urban vehicle. Its short wheelbase and fuel efficient engine make it easy to drive in crowded places. Its high roofline and hatchback make it versatile, too. No parking spot is too small for the Toyota IST. This in general has made the IST step in demand in the Ugandan Auto mobile market.
Click
here to buy a Toyota IST
in Uganda
Buying a Toyota IST from a car bond in Uganda
Buying a car from a car bond makes life a lot easier to acquire yourself a vehicle. There is basically no need to go to japan or order for the vehicle from japan or any other part of the world.
In short you just walk to the car bond and arrange for a purchase and within a short time after payment the Car Keys are handed over to you as the new owner.
However, you can also find that some cars have only cleared the cost, insurance and freight (CIF) fees only. So it would mean that if you want a Toyota IST then you will have to clear the rest of the taxes.
You can find the CIF of the Toyota IST (that's up Kampala from Japan) to be around $ 3,000 or more for latest models.
However, the cost of the CIF can change due to year of manufacture, condition of the car, mileage and the dealer. In general, Toyota IST can cost you around UGX 20,000,000 or even more.
Click
here to buy a Toyota IST
in Uganda
Importing a foreign used Toyota IST from Japan
Now this is different from buying from car from the car bond here in Kampala. Some people prefer to import their own cars directly from Japan or from any other part of the world.
This means all the costs are going to be met by the owner of the car right from say Japan to Mombasa up to Uganda. Here one needs to determine the cost of the car while still in Japan from which the Cost, Insurance and Freight (CIF) are calculated.
After that, arrangements are made to ship the car to Kampala, Uganda. After arriving in Kampala, then the required taxes have to be cleared.
The taxes charged by the Uganda Revenue Authority include Import Duty, Value added (VAT), Withholding Tax, Environmental Levy, Infrastructure Levy, and Registration Fees. When all this is done, then you are free to drive home in you Toyota IST.
Click
here to buy a Toyota IST
in Uganda
General Toyota IST review for Uganda
The smaller displacements were employed for fuel economy. The engine range comes in 1.3 L, 1.5 L and 1.8 L having a fine balance between size and weight to support. The performance is optimized because of this it has better grip on road to support. The suspension further provides maneuvering ease with slip controlled in an appropriate way.
The manual transmission gives power to change gear in hand while the automatic transmission provide true taste of automation with human involvement reduced.
The specifications are fully loaded inside out that makes the vehicle have a tantalizing effect on viewers inside (passengers) and outside (passer-by).
The exterior has the Alloy Wheels to support the tires with image boosting mechanism in hand. The Roof Rail is there for luggage carriage ease and tough look enhancement.
The headlight and taillight illuminate road with LED effect in multiple trims so whether it is night and/or Fogy drive the experience is never low grade.
The interior is cozy with Temperature Control System that is centralized in many cases, though the latest models have individual temperature regulator on each seat.
The Power Window and Power Steering further make small input produce greater and smooth output. Hence the glass on car door and steering wheel work to perfection in such case.
Common complaints owners of the Toyota IST raise in Uganda
One of the main complaints is its low ground level. It's strictly an urban car. Upcountry rugged terrain is not for the IST.
Secondly it does NOT load many people hence its only ideal for four people.
Other alternatives available in Uganda for the Toyota IST
We have the Honda fit, Toyota Vitz, Toyota Runx, Toyota Allex, VW Golf, Mazda Demio among others.
Click
here to buy a Toyota IST
in Uganda
My Final verdict about this Ugandan Car
Toyota IST is a mini world, having all it takes to make classy experience making.
Given its low fuel consumption, easy to pack make it highly conducive for the high traffic areas in the urban areas of Kampala.
Click
here to buy a Toyota IST
in Uganda