Before you buy a Toyota Isis in Uganda
by edwin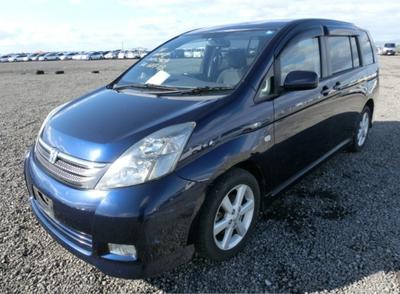 Toyota Isis in Uganda
The Toyota Isis is a seven-seat large MPV manufactured by Kanto Auto Works under contract for Japanese automaker Toyota.

It is sold in Japan and Singapore and was launched in September 2004. It features sliding doors and is available with either front or four-wheel drive and straight-4 1.8 and 2.0-litre gasoline engines.

It competes in Japan with the Honda Stream and the Nissan Lafesta.


Before you buy a Toyota Isis in Uganda
The Toyota Isis is a practical and convenient car at the same time. It features wide-opening panoramic doors that make it very easy to get on and off.
The in-line 4-cylinder engine gives you more than enough power for your daily rides, even if you have a full load, while still keeping fuel efficiency in mind.
The transmission comes in two options, the Automatic Transmission and CVT (Continuously Variable Transmission).
All models manufactured after September, 2009 are in CVT (Continuously Variable Transmission). The CVT (Continuously Variable Transmission) is designed to also give you more fuel economy.
Choose from a FF (Front wheel, Front Engine) or a Four Wheel Drive layout depending on your needs.
Click
here to buy a Toyota Isis
in Uganda
Buying a Toyota Isis from a Ugandan car bond
Just in case you opt to buy Toyota Isis from the a car bond in and around Kampala, then things could be a little bit more simpler for you because you will not have to face all the lengthy processes and journeys to the port to own the car.
Here most of the work has already been done for you. Most taxes have been cleared. All you have to do is simply pay for the car from the car bond and drive home.
However, you can also find that some cars have only cleared the CIF fees only. So it would mean that if you want a Toyota Isis then you will have to clear the rest of the taxes.
You can find the CIF of the Toyota Isis (that is from Japan to Kampala) to be around $ 2,000. However, the cost of the CIF can change due to year of manufacture, condition of the car, mileage and the dealer. In general, Toyota Isis can cost you around UGX 19,000,000.
Importing a foreign used Toyota Isis from Japan
Importing a foreign used Toyota Isis from Japan is different from buying from car from the car bond here in Kampala. Some people prefer to import their own cars directly from Japan.
This means all the costs are going to be met by you the owner of the car right from say Japan to Mombasa up to Uganda. Here one needs to determine the cost of the car while still in Japan from which the Cost, Insurance and Freight (CIF) are calculated.
After that, arrangements are made to ship the car to Kampala, Uganda. After arriving in Kampala, then the required taxes have to be cleared. The taxes charged by the Uganda Revenue Authority include Import Duty, Value added (VAT), Withholding Tax, Environmental Levy, Infrastructure Levy, and Registration Fees. When all this is done, then you are free to drive home in your new Toyota Isis.
Click
here to buy a Toyota Isis
in Uganda
General Toyota Isis review for Uganda
Toyota Isis is a complete package of the reliability, practicality, durability and safety for the valued customers and their families.
The precautionary and feasibility specifications are provided adequately for the drivers as well as the passengers.
The safe drive is ensured not only for the people traveling inside the car but also the pedestrians in case of an unavoidable circumstance.
The features that collaborate for effective functioning and delivery of maximum performance includes: 1794 cc displacement, straight engine layout, four cylinders, 16 valves, balanced bore and compression ratio, petrol fuel injection, 170 torque delivery, speedy acceleration, auto transmission, four gears, 164 grams per kilometer CO2 emission and combined average mileage of 6.94 liters per 100 kilometers distance.
The important specs based and rated by the consumer reviews are: driver airbags, passenger airbags, side airbags, automatic brake assist , automatic air conditioning system, front fog lamps installed, rear split fold, ventilated disc front brakes, power windows, seat lifter, separate folding for the back rows, sliding doors, privacy glass, smooth instrumental panel, ultra violet glass protection, front and rear spoilers, xenon head lamps, drum rear brakes, 60 liters of fuel tank capacity, 5.4 turning radius and seat belts for the driver and the passengers.
High quality material is utilized in manufacturing the specs, therefore many used Toyota isis are also sold by dealers and manufacturers at incredibly reduced prices and amazingly well maintained condition.
Click
here to buy a Toyota Isis
in Uganda
Common Complaints Owners of Toyota Isis raise while in Uganda
We don't have a lot of complaints on file for the Toyota Isis.
However some of the complaints raised include brake failure, electronics, engine check flashlight and shocks.
Other alternatives available in Uganda similar to the Toyota Isis
The main competitors of the Toyota ISIS are the Toyota Corolla Axio Fielder, Toyota Probox, Honda Airwave, Suzuki Every Wagon, Toyota Wish and the Suzuki APV.
Click
here to buy a Toyota Isis
in Uganda
My Verdict about this Car in Uganda
The Isis looks much more spacious then the WISH and it has a sliding door.
The Isis also does not have the 'B' pillar making the car more spacious.
These features alone give it thumbs up.
Click
here to buy a Toyota Isis
in Uganda