Before you buy a Toyota Dyna Truck in Uganda
by Edwin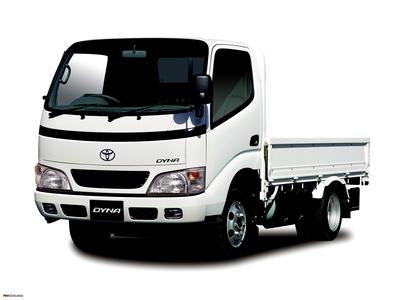 The Toyota Dyna is a medium-duty cab over truck for commercial use. In the Japanese market, the Dyna is sold alongside its twin called the Toyoace. The Toyoace was a renaming of the Toyopet SKB Truck as a result of a 1956 public competition with 200,000 entries. "Dyna" is short for dynamic.


Before you buy a Toyota Dyna Truck in Uganda

The Toyota Dyna is a medium-duty cab over truck. In Japan, the Dyna is sold alongside its twin called the Toyoace. The Dyna was originally available in Japan only at Toyota Diesel Store locations, then later available at Toyota Store locations, while the Toyoace twin was available at Toyopet Store. The Dyna was also sold as the Japanese: Daihatsu Delta and Hino Dutro. The models shown on web are 3.0-Liter diesel engine (ADF-KDY281) with manual 4WD. The maximum load is 1.35 TONs painted in white and 2.0-Liter gasoline engine (TC-TRY230) with manual transmission RWD (real wheel drive) in blue. The maximum load is 1.5 TONs.


Buying foreign used Toyota Dyna Truck from a local car bond in Uganda

In case you choose to buy a foreign used truck from a car bond makes life a lot easier to acquire yourself a vehicle. There is basically no need to go to Japan or order for the vehicle from Japan or any other part of the world. In short one just walks to the car bond and arrange for a purchase and within a short time, the car is paid for and handled over to you as the owner.

However, you can also find that some trucks have only cleared the cost, insurance and freight (CIF) fees only. So it would mean that if you want a Toyota Dyna Truck then you will have to clear the rest of the taxes. You can find the CIF of the Toyota Dyna 2002 Truck (that's up Kampala from Japan) to be around $ 5,500 or more for latest models in very good condition.

However, the cost of the CIF can change due to year of manufacture, condition of the car, mileage and the dealer. Now the Toyota Dyna Truck is more expensive as compared to most the cars we have discussed. In general, the Toyota Dyna Truck can cost you around UGX 120,000,000 or even more for a premium class.

Click here to buy a Toyota Dyna Truck or Toyota Dyna Truck spare parts in Uganda


Importing a foreign used Toyota Dyna Truck from Japan

Now this is different from buying from car from the car bond here in Kampala. Some people prefer to import their own cars directly from Japan or from any other part of the world. You have to follow a procedure similar to the one stated below.

Search and select vehicle to buy from Japanese Used Car Portal Websites. Send Inquiry for price, condition, etc of the truck. The Japanese Dealers will respond you directly by Email.

Watch out for fake e-mails as many scams may con you for money. After that you negotiate with the Japanese dealer for a conducive price that fits your budget.

Request for a proforma invoice, place your order and make payment which may be either through bank wire or VISA. The seller will inform you about the following things like the Payment Confirmation, Shipping Schedule, B/L copy, Original Document and then you receive the order in this case the truck.


General Toyota Dyna Truck reviews

MPG and Running Costs
The Dyna's engine is a less-powerful version of the four-cylinder 3.0-litre diesel engine that powers the Land Cruiser. The Dyna doesn't lend itself to good aerodynamics, with a large front area and open bodywork. Even so, the combined fuel consumption figure ranges between 28.2mpg and 32.5mpg, with equivalent CO2 emissions of 229g/km to 263g/km. Under the circumstances, that's not too bad. Equivalent figures are not available for the Isuzu Grafter, Mitsubishi Fuso Canter or Nissan Cabstar, all models sharing the forward-control layout, but classified as light trucks, for which published fuel consumption and emissions data is not yet required. For insurance, the Dyna is in groups 11 to 13. As far as service intervals are concerned, these are set at 10,000 miles/12 months, short by today's standards. For comparison, the Nissan Cabstar has service intervals of 18,000 miles/24 months or 25,000 miles/24 months, depending on the engine.

Load Space and Practicality

The Dyna offers a great deal of flexibility in terms of load space. Toyota has the most popular body options covered in the shape of the dropside and tipper bodies, supplied from the factory. These are lightweight aluminium bodies, sourced from Scattolini and fitted at the Toyota factory. The dropside body is available for all three Dyna wheelbase lengths, while the short-wheelbase model is available with the rear-tipping body and the medium-wheelbase chassis with the three-way tipper. The dropside body offers load lengths up to 4,460mm for the LWB model, and the tipper up to 3,150mm. For those wanting different bodywork, possibly for transporting cars or machinery, Toyota dealers should be able to help find an appropriate bodybuilder. Nissan offers a box body for the Cabstar, giving buyers more options than Toyota, but, as we have said, Toyota dealers will probably be able to help if other bodywork is preferred. The three-way tipper is a useful option for small building jobs as it allows the content to be tipped in tight spaces.

Cab and Interior
On the plus side, the cabin design gives a relatively high seating position and, with plenty of glass in the cab and no bonnet, the driver has a good all-round view. But the bouncy ride doesn't add to the comfort for either driver or passengers. The cab design limits interior space and with it, storage space. There are overhead trays, a glovebox, door pockets and cup holders, but there's no space under the seats for storage. The driving position feels distinctly old-fashioned, with a more horizontal steering wheel than in most vans, and the steering column between your knees.

Click here to buy a Toyota Dyna Truck or Toyota Dyna Truck spare parts in Uganda


Availability of the Toyota Dyna Truck spare parts in Uganda

Toyota is the dominant brand when it comes to vehicles in Uganda. In this regard, Toyota spare parts are so accessible and widely spread throughout the country. Not to mention, the Dyna is easy to maintain when it breaks down. Down town mechanics fix the Dynas with a lot of ease. This makes the Toyota Dyna a favorite for many small scale business owners in Uganda.


Reasons why people buy the Toyota Dyna Truck in Uganda

The Toyota Dyna is easy to maintain, spares are readily available and is has a reasonable consumption of fuel that favors the small scale business owners.

The Dyna is also conducive for transporting and distributing goods like mineral water bottles to various centres/consumers, cosmetics, laundry soap among others.

Click here to buy a Toyota Dyna Truck or Toyota Dyna Truck spare parts in Uganda


Our Conclusion

The Toyota Dyna is a forward-control truck that offers a long load space in compact dimensions that's best suited to short-distance work. In addition, its easy to maintain hence does choke on the owner's pocket. These make it a favorite choice of many small scale business owners.