Before you buy a Tata SFC Truck in Uganda
by Edwin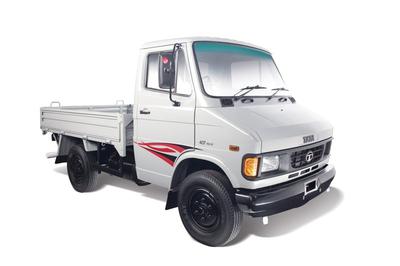 The Tata SFC is a highly versatile LCV built for light commercial applications. Designed as a pickup, the vehicle is available with GVWs (gross vehicle weights) between 3800 kg and 9050 kg.

In its home market the Tata SFC is very successful and it's specially appreciated for its generous payload capacity, small fuel consumption and the low costs of ownership.

The Tata SFC is offered to a very competitive price ($10.200 starting price) and comes with a service interval of 20,000 kms and a 3 year warranty. The truck is available with a choice of three engines which develop 75 hp, 90 hp and 102 hp.


Buying a foreign used Tata SFC Truck from a local Ugandan car bond
It is not a common incidence to find a Tata being sold in a car bond in Uganda. This is partly because Tata SFC are not found in Japan meaning also that they are not imported from there. These a basically Indian made and in Uganda, second hand or foreign used cars and trucks are not imported from India.
Hence in case you need a Tata SFC which has been used before then its better you for one from the local market since most Tatas come in to the country brand new and they are cheap to buy brand new.
Click
here to buy a Tata SFC Truck or Tata truck spare parts
in Uganda
Importing a foreign Used Tata SFC Truck from Japan or other parts of the world
Buying a Tata Prima from abroad is very rear. This is basically because Tata trucks are brought in for you directly from India. A brand new Tata SFC is a lot cheaper as compared to its Japanese competitors like the Isuzu Elf, Isuzu Dyna and Mitsubishi Canter.
This means it's a lot more cost effective to buy a brand new Tata SFC from the dealers here in Uganda than importing one yourself. However, should feel like importing one yourself, then it would require you to find a trusted dealer or seller in that regard, determine your specific car features and requirements, expected budget you plan to spend on buying the pick-up and well calculated taxes to be paid to the tax authorities in order to clear your Tata SFC.
The taxes charged by the Uganda Revenue Authority include Import Duty, Value added (VAT), Withholding Tax, Environmental Levy, Infrastructure Levy, and Registration Fees basing on the CIF of the Tata SFC from India or any other country the Tata SFC might be imported from.
On arrival to Kampala, Uganda, you will have to clear the taxes at The Uganda Revenue Authority (URA), apply and pay for a number plate and then the third party license. You may also notice that some of these charges or fees differ from other truck.
General Tata SFC Truck reviews for Uganda
The Tata SFC is far from looking modern, as it comes with a basic and rudimentary design. Its conventional cab configuration makes it look like a typical LCV and features a short nose combined with a tall cab and a massive windscreen.
The front gets a simple radiator grille flanked by two rectangular headlights which don't do anything to improve the dated look of the truck. The TATA name is embossed directly on the bonnet, which is slightly raked to improve the straight road visibility.
The side view reveals two parallel cresses which run along the sides adding a bit of dynamism to an otherwise very monotone design.
The bumper continues the rudimentary style initiated by the grille and hasn't received any line to make it stand out from the crowd.
The exterior build quality is third class and looks pretty close with what you'll find in a Chinese LCV. On the other hand, the load bed has a generous size and can soak big payloads without problems.
Click
here to buy a Tata SFC Truck or Tata truck spare parts
in Uganda
Once inside, you'll get the same dated look found at the exterior. As it was expected, the dashboard looks ancient and the plastics are rock hard. The fittings aren't great either and anything looks like it will start to rattle after a few hundred kilometers.
The good part is that you get decent amount of space. Both the driver and passenger are rewarded with plenty of head-, shoulder- and leg-room, but the driver's seat isn't very comfortable and useful only for short durations.
On the other hand, once you climb on the driver's seat, you'll be rewarded with a commanding view of the road ahead. The driving position is high and we also like the generous lateral windows which do their job just fine keeping you well informed of what's going on behind. The bonnet is completely visible which makes it easier to drive in heavy traffic conditions. The passenger seats are decent but could do with more side support and lower back support.
The steering wheel looks as ancient as the rest of the cab, but its dimensions were wisely selected and it feels fairly easy to hold. The instrument cluster may not be the most modern unit ever seen, but at least its big gauges are easy to read on both night and day. Though, during sunny days it could catch a few reflections which will spoil the fun.
As it was expected the truck isn't offered with any high tech equipment, so the center console is fitted only with basic controls and all of them are placed intuitively and within easy reach. The safety department is also very poor represented, as there are offered only seatbelts without ABS or airbags.
Ride and handling: The truck is fitted with hard semielliptical springs at both front and rear that were design to be able to deal with big payloads without breaking a sweat. Tata also added hydraulic double acting telescopic shock absorbers and the truck has a ladder on frame chassis construction which further helps to keep the cab isolated from different vibrations. Though, some bumps still make their way into the cab and the ride is far from being comfortable.
The good part is that the steering and handling are pretty good and thanks to its relatively small dimensions, the Tata SFC is pretty easy to drive around town. It also worth to be mentioned that the truck has a turning circle diameter of only 12.3 meters which permits you to negotiate with narrow streets and tight working conditions.
There are drums at both front and rear which means the stopping power isn't something to rave about, as it lacks that bite found at the disc brakes.
Click
here to buy a Tata SFC Truck or Tata truck spare parts
in Uganda
Availability of Tata SFC Truck parts in Uganda
Tata SFC spare parts are readily available in Uganda. Indians have these spares imported something that makes spare parts accessibility easy in Uganda.
Our Conclusion
The Tata SFC is starting to show its age. Apart from its ancient exterior design, the interior is also highly rudimentary and after a longer journey the seats will start to punish you with annoying back pains. On the other hand, you'll like the all-round visibility and the commanding driving position.
The engines are a bit weak for today's standards, but they are pretty efficient scoring average fuel consumption between 11-13 km/ltr. The ride is far from being soft, but you won't have major complains about the handling and steering.
The Tata SFC is also pretty cheap to maintain and can be easy repaired in any service. Despite its rudimentary nature, the truck is a trusted work horse and it's able to do its job even if it comes without all the bells and whistles of its more upscale counterparts.
Click
here to buy a Tata SFC Truck or Tata truck spare parts
in Uganda