Before you buy a Tata LPK 2518 Truck in Uganda
by Edwin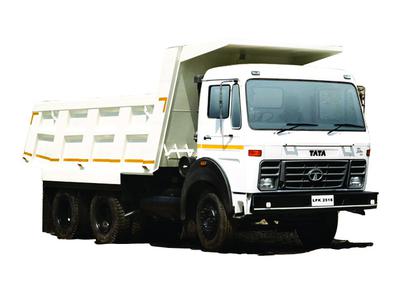 The LPK model is part of Tata's Construck range of trucks so the vehicle was especially built for construction sites and different harsh working conditions.
The LPK isn't at the same level with the European and Japanese trucks when it comes to build quality and reliability, but it comes with a fairly cheap price tag.

Thanks to its versatile platform, it can be used for a wide range of applications and it's offered with GVWs (gross vehicle weight) ranging from 16200 kg to 25000 kg. With a wheelbase of 3880 mm and an overall length of 6830 mm, the Tata LPK is a pretty big medium duty truck and it's usually used for light mining, construction and road work.

Under the cab, the Tata LPK can be equipped with two Cummins engines which develop 183 hp and 235 hp.


Buying a foreign used Tata LPK 2518 Truck from a local Ugandan car bond
It is not a common incidence to find a Tata being sold in a car bond in Uganda. This is partly because Tata LPK trucks are not found in Japan meaning also that they are not imported from there. These a basically Indian made and in Uganda, second hand or foreign used cars and trucks are not imported from India.
Hence in case you need a Tata LPK which has been used before then its better you for one from the local market since most Tatas come in to the country brand new and they are cheap to buy brand new.
Click
here to buy a Tata LPK 2518 Truck or Tata spare parts
in Uganda
Importing a foreign Used Tata LPK 2518 Truck from Japan or other parts of the world
Buying a Tata LPK 2518 Truck from abroad is very rear. This is basically because Tata trucks are brought in for you directly from India. A brand new Tata is a lot cheaper as compared to its competitors like the Fuso Mitsubishi, Isuzu Trucks, among others.
This means it's a lot more cost effective to buy a brand new Tata LPK 2518 Truck from the dealers here in Uganda than importing one yourself. However, should feel like importing one yourself, then it would require you to find a trusted dealer or seller in that regard, determine your specific car features and requirements, expected budget you plan to spend on buying the truck and well calculated taxes to be paid to the tax authorities in order to clear Tata LPK 2518 Truck.
The taxes charged by the Uganda Revenue Authority include Import Duty, Value added (VAT), Withholding Tax, Environmental Levy, Infrastructure Levy, and Registration Fees basing on the CIF of the Tata LPK 2518 Truck from Japan or any other country the Tata truck might be imported from.
On arrival to Kampala, Uganda, you will have to clear the taxes at The Uganda Revenue Authority (URA), apply and pay for a number plate and then the third party license. You may also notice that some of these charges or fees differ from other trucks.
Click
here to buy a Tata LPK 2518 Truck or Tata spare parts
in Uganda
General Tata LPK 2518 Truck reviews for Uganda
Looking at the design, you will realize that the Tata LPK is a pretty old truck and the exterior designed has started to show its age. As most trucks in Tata's lineup, the LPK has also received a cab over engine configuration which is better suited for tight construction sites and also for the city driving.
The front fascia features a massive windscreen combined with an oversized grille that has a black paint finish. The grille bares the company logo in its center and thanks to its rugged design it underlines the utilitarian character of the truck.
On each side of the grille, there are big rectangular headlights, while the turning signals are mounted at the bottom of the windscreen. Thanks to their high position the turning signals are easier to be seen by the other vehicles from the street, thus enhancing the safety.
To be able to deal better with off road terrains, the truck received a very high ground clearance and massive wheels. There is a choice of body size, type as well as wheel base for different applications.
Getting to the Interior, to the high ground clearance climbing inside could prove to be a small adventure and the foot steps are also a bit uncomfortable to use.
Luckily the cab offers a fair amount of space and you won't complain about the head and leg-room.
The interior design however, is pretty spartan and everything looks ancient. The build quality is also cheap and everything inside rattles due to the poor fittings.
The good part is that despite the dated design, everything is placed within easy reach and most of the controls have an intuitive layout. The instrument cluster is one of the oldest units you'll ever found in a contemporary truck, but at least it can be read without problems.
The steering wheel offers a good grab and can be also adjusted for height thus adding a bit of common sense comfort in an otherwise very rudimentary cabin.
As you sit high from the ground you get a commanding view of the road. The road visibility is pretty good, but the side visibility could've been better, as the lateral windows are split in two sections and limit the field of view.
The seats are anything but comfortable and they also come with pretty limited adjustments making it hard to find a proper driving position.
At least, the storage department is well represented and you'll find plenty of useful places to store your things.
Click
here to buy a Tata LPK 2518 Truck or Tata spare parts
in Uganda
Last but not least, the Ride and handling: The truck rides on semi elliptical leaf springs at front and inverted bogie suspensions at rear with antiroll bars are offered only for the front axle. The suspension is pretty hard, but it's still able to soak the smaller potholes without too much drama. Though, as we are talking about a construction truck, don't expect get a comfortable ride especially when the vehicle is unladed.
The steering however will give you a proper road feedback and it's well weighted hence inspiring a fair amount of confidence.
The Tata LPK isn't as agile as other trucks in its segment, but you won't have major complains about the city driving, as it comes with a minimum turning radius of 7.2 meters which is satisfactory give it's heft and size.
Availability of Tata LPK 2518 Truck parts in Uganda
Tata LPK spare parts are readily available in Uganda. Indians have these spares imported something that makes spare parts accessibility easy in Uganda.
Click
here to buy a Tata LPK 2518 Truck or Tata spare parts
in Uganda
Our Conclusion
The Tata LPK is an old truck which should be replaced by the Indian manufacturer as it's far behind today's standards.
The build quality and interior comfort are both part of the third class and for a 21 century truck, the LPK's cabin is highly dated.
The engines offer sufficient power and torque to permit you to deal well with big payloads, but needed a better fuel consumption and more refinement, while the gearbox could've been better as well.
The ride and handling are average and don't have anything to stand out from the crowd, but we especially like the responsive power steering. The best part of the Tata LPK remains its price, which starts from $35.000. The spare parts are also cheap but you should expect a poor quality.