Before you buy a Suzuki Jimny in Uganda
by edwin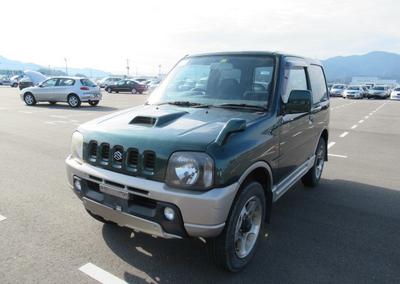 2001 Suzuki Jimny
The Suzuki Jimny is a line of off-road mini SUVs made by the Japanese automaker Suzuki produced since April 1970.



Before you buy a Suzuki Jimny in Uganda
SUZUKI is well known for their 'kei' class cars in Japan (compact, sub 1000cc engine vehicles).
Being the company's 'kei' sized cross-over/off-roader the JIMNY is only powered by a small and punchy 650cc engine (for both generations; E-JA22W and TA-JB23W) but features the same basic DNA as any other full-sized cross-over including 4WD, choice of manual or automatic gearboxes, high ride height (compared to other 'kei's) as well as 16 inch wheels - large for a car in this class.
This makes the JIMNY conducive for Uganda's terrain especially in the upcountry areas where the road network is very poor.
Click
here to buy a Suzuki Jimny
in Uganda
Buying a Suzuki Jimny from a Ugandan car bond
If you opt to buy Suzuki Jimny from the a car bond in and around Kampala, then things could be a little bit more simpler for you because you will not have to face all the lengthy processes and journeys to the port to own the car.
Here most of the work has already been done for you. Most taxes have been cleared. All you have to do is simply pay for the car from the car bond and drive home.
However, you can also find that some cars have only cleared the CIF fees only. So it would mean that if you want a Suzuki Jimny then you will have to clear the rest of the taxes. You can find the CIF of the Suzuki Jimny (that's up Kampala from Japan) to be around $ 3,000.
However, the cost of the CIF can change due to year of manufacture, condition of the car, mileage and the dealer. In general, Suzuki Jimny can cost you around UGX 20,000,000.
Click
here to buy a Suzuki Jimny
in Uganda
Importing a used Suzuki Jimny from Japan
Now this is different from buying from car from the car bond here in Kampala. Some people prefer to import their cars directly from Japan.
This means all the costs are going to be met by the owner of the car right from say Japan to Mombasa up to Uganda. Here one needs to determine the cost of the car while still in Japan from which the Cost, Insurance and Freight (CIF) are calculated.
After that, arrangements are made to ship the car to Kampala, Uganda. After arriving in Kampala, then the required taxes have to be cleared.
The taxes charged by the Uganda Revenue Authority include Import Duty, Value added (VAT), Withholding Tax, Environmental Levy, Infrastructure Levy, and Registration Fees. When all this is done, then you are free to drive home in you Suzuki Jimny.
Click
here to buy a Suzuki Jimny
in Uganda
Common Problems Owners of Suzuki Jimny face while in Uganda
Apart from the common and minor problems like suspension bushes, shock absorbers, the Suzuki Jimny does not have many reported complaints.
Some prominent Jimny owners fault its small engine. Otherwise the Jimny is very reliable and cheep to run it, does everything it is asked to do.
Click
here to buy a Suzuki Jimny
in Uganda
Alternatives for the Suzuki Jimny in Uganda
The main alternative you can find in here in Uganda is the Jeep Wrangler.
This is grouped in the same class as the Jimny.
My Final Verdict for this Ugandan Car
The Suzuki Jimny is no big bully, in fact, it's that small, rough and tough kid in the class. The same small, rough and tough kid that could very well drink the bigger bully's milk if he wanted to during lunch break.
Just to make it clear, the Suzuki Jimny may be small, but it eats its competitors for breakfast; effortlessly.
Click
here to buy a Suzuki Jimny
in Uganda