Before you buy a Subaru Impreza Wrx in Uganda
by Edwin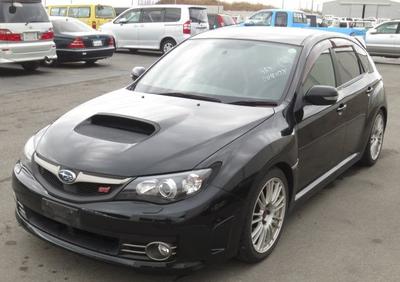 The Subaru Impreza is a compact automobile that has been manufactured since 1992 by Subaru, introduced as a replacement for the Leone, with the predecessor's EA series engines replaced by the new EJ series.


Before you buy a Subaru Impreza Wrx in Uganda
The Subaru Impreza Wrx has the concept of "Impressive Sports Sedan" in pursuit of ultimate drivability. Three types of engines; 2.0-Liter AVCS (Active Valve Control System) flat-four DOHC gasoline (TA-GD9) with 155ps/20.0kgm, 2.0-Liter AVCS flat-four DOHC intercooler turbo gasoline (TA-GDA) 250ps/34kgm and 2.0-Liter AVCS flat-four intercooler turbo gasoline (GH-GDB) 280ps/38kgm known as STI series.
The transmissions are 5-speed manual or 4-speed AT for 2.0 non-turbo and turbo models. 6-speed manual is exclusively for STI. The drive trains are 4WD (Four Wheel Drive) for all models. The suspensions are struts in front and rear. Dual airbags and ABS (Anti-lock Brake System) as standard.
Click
here to buy a Subaru Impreza Wrx or car spares parts
in Uganda
Buying a Subaru Impreza Wrx from a Ugandan car bond
Buying a Subaru Impreza Wrx from the car bond in and around Kampala makes things bit simpler for you because you will not have to face all the lengthy processes and journeys to the port to own the car. Here most of the work has already been done for you. Most taxes have been cleared. All you have to do is simply pay for the car from the car bond and drive home.
However, you can also find that some cars have only cleared the CIF fees only. So it would mean that if you want a Honda Accord then you will have to clear the rest of the taxes. You can find the Cost, Insurance and Freight of a Subaru Impreza Wrx (that is from Japan to Kampala) to be around $ 3,000 or even above as stated by the car bond dealers. However, the total sum of the CIF can change due to year of manufacture, condition of the car, mileage and the dealer you choose to buy the car from.
Importing a foreign used Subaru Impreza Wrx from Japan
Importing a foreign used Honda Accord from Japan is different from buying from car from the car bond here in Kampala. Some people prefer to import their own cars directly from Japan.
This means all the costs are going to be met by you the owner of the car right from say Japan to Mombasa up to Uganda. Here one needs to determine the cost of the car while still in Japan from which the Cost, Insurance and Freight (CIF) are calculated. For example a Honda Accord model 2005 costing $ 3,992 will make a total CIF of about $ 6,195 in order to be brought up Kampala, Uganda. After arriving in Kampala, then the required taxes have to be cleared.
The taxes charged by the Uganda Revenue Authority include Import Duty, Value added (VAT), Withholding Tax, Environmental Levy, Infrastructure Levy, and Registration Fees basing on the CIF of the car from Japan.
Click
here to buy a Subaru Impreza Wrx or car spares parts
in Uganda
Availability of Subaru Impreza Wrx spare parts in Uganda
Subaru Impreza Wrx spares are readily available here in Uganda. At least of the mechanical spares of the impreza will be got in our auto spare markets.
Subaru Impreza Wrx competitors in Uganda
Ford Focus, Mazda 3, Toyota Alteza and Mitsubishi Lancer are some of the alternatives you can get here in Uganda.
Click
here to buy a Subaru Impreza Wrx or car spares parts
in Uganda
General Subaru Impreza Wrx reviews for Uganda
For many people the WRX is the epitome of Subaru. Standing for World Rally Experimental - the WRX and its rallying success transformed the Subaru brand from a company famed for workhorse 4x4s loved by farmers to a firm synonymous with performance and handling.
However, the market has changed and in recent years and the WRX's shining light has waned.
Fire up the Subaru's four-cylinder boxer turbo, and you get a familiar offbeat burble from under the bonnet, while the car gently vibrates to the tune of the engine. You have to manhandle the WRX STi to get it going, due to the heavy gearbox, clutch and steering, although once on the move it's easy to live with.
The sound that comes out of this road runner has got some youths driving the impreza wrx like there is no tomorrow. When you hear the rattling sound, the first thing that comes to your mind is the "Subaru".
Looking at the Subaru Impreza wrx's interior, design and technology, the Subaru WRX lets you know exactly what you're in for when you get behind the wheel. The four-door body has a similar silhouette to one-time arch rival the Mitsubishi Evo X, with a bluff nose, functional bonnet scoop, stubby rear end and huge rear wing all shouting about its rally car heritage.
Open the Subaru's boot, and you're greeted by a 460-litre space. There's a high floor, thanks to the 4WD running gear underneath, while the narrow saloon boot opening means it's harder to access than hot hatch rivals.
The WRX features seven airbags, while the four-wheel-drive system adds confidence in wet weather. It uses advanced electronics and a mechanical centre diff to distribute power, so the Subaru shouldn't face too much trouble in poor conditions.
Click
here to buy a Subaru Impreza Wrx or car spares parts
in Uganda
Depreciation of the Subaru Impreza wrx in Uganda
The Subaru impreza wrx has a very low resale value. This is partly because of its expensive running costs as compared to other brands like the Toyota.
Final verdict
Like Toyota, Subaru has a first-class reputation for building cars that are strong and durable. The WRX STi uses technology that can trace its heritage back to Subaru's world rally cars, so it should prove robust and able to stand up to the rigours of hard use, especially if you plan to take it on track days.
Click
here to buy a Subaru Impreza Wrx or car spares parts
in Uganda