Before you buy a Range Rover Sport in Uganda
by Edwin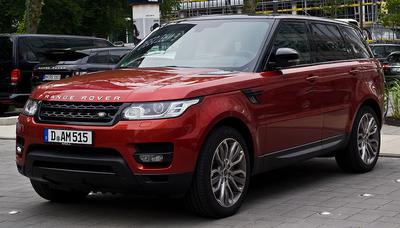 The Range Rover Sport is a British luxury mid-size SUV made by Land Rover. The first generation (codename: L320) started production in 2005, and was replaced by the second generation Sport (codename: L494) in 2013.


Before you buy a Range Rover Sport in Uganda
We are big fans of the Range Rover Sport here in Uganda. Move around and ask anybody what their dream car is and you will find 6 out 10 wish to drive a Range Rover Sport. It's great to drive, fully living up to its name with strong performance and size-defying handling prowess. The SVR is a genuine sports car on stilts, but even the SDV6 has ample power.
It's as luxurious as you'd expect a big car wearing the Range Rover badge to be. The commanding interior is beautifully finished and a lovely place to spend time, with abundant space for five and a handy seven-seat option should you need it.
Click
here to buy or hire Range Rover Sport and buy car spare parts
in Uganda
Buying a foreign used Range Rover Sport from a local Ugandan car bond
There are a number of car bonds in Uganda specifically Kampala from which you can buy your Range Rover Sport. However, you have to do good research in order to find a reputable car bond or dealer who will be able to provide you with the car that will meet your needs and above all genuinely imported into Uganda.
You need to look out for prices and discounts. Local car bonds may not charge the same prices for the same car. Prices of the Range Rover Sport may be affected by mileage of the Range Rover Sport, condition of the car, model, and year of manufacture.
It is also very important to note that there have been numerous cases of Land Rover Car thefts especially from Europe in particularly from Britain. These cars have been traced up to Uganda and the buyers have fallen in trouble for buying stolen cars.
So you are advised to take precautions while buying your Sport from the local car bonds in Uganda. Unless you are sure the car has a clean record of importation, please don't pay for it or else you risk losing the car and your money as well when its impounded by the authorities.
Click
here to buy or hire Range Rover Sport and buy car spare parts
in Uganda
Importing a foreign Used Range Rover Sport from Japan or other parts of the world
In case if you prefer to import your own Range Rover Sport from say Japan or from Europe, things change a bit. First it would require you to find a trusted dealer or seller in that regard, determine your specific car features and requirements, expected budget you plan to spend on buying the car and well calculated taxes to be paid to the tax authorities in order to clear Range Rover Sport.
It is also very important to examine the car upon arrival to check and see if all the car components are included in the car as it was shown to you before buying it. You need to watch out for car spare tires, car jack, radio, navigation systems, window buttons among other things.
The taxes charged by the Uganda Revenue Authority include Import Duty, Value added (VAT), Withholding Tax, Environmental Levy, Infrastructure Levy, and Registration Fees basing on the CIF of the Range Rover Sport from Japan.
On arrival to Kampala, Uganda, you will have to clear the taxes at The Uganda Revenue Authority (URA), apply and pay for a number plate and then the third party license. You will also notice the some of these charges or fees differ from other vehicles.
Click
here to buy or hire Range Rover Sport and buy car spare parts
in Uganda
General Land Rover Defender reviews for Uganda
The Range Rover Sport's interior leaves you in no doubt it's a genuine luxury vehicle. Even in standard HSE guise, there are swathes of posh Oxford leather, jewel-like switchgear and a central widescreen monitor.
It's a more sporting layout than the formal and upright Range Rover – and, for this version, bespoke to the Sport (the previous model had an interior shared with the Land Rover Discovery). It's like a posher, more grown up Range Rover Evoque, and feels great to sit within. Even the steering wheel is a treat to hold and look at.
The stereo is excellent, even in standard form. If you can afford it, you really should step up to the powerful 825W Meridian system, which has concert hall clarity and tremendous depth: it's standard on Autobiography versions.
Considering comfort, space and practicability, the Range Rover Sport isn't quite as large as the range-topping Range Rover, the interior is still highly flexible and family friendly. It makes a great everyday car that will swallow up to seven without fuss – indeed, this practicality is something that Land Rover prioritised from the off.
What stands out even more, though is the sheer comfort and luxuriousness of the Range Rover Sport. It's a beautifully finished cabin that's lavished in leather even in standard HSE guise, with decent quality, fit and finish for good measure.
A practical boot is handy even in seven-seat guise, thanks to the fold-flat rear seats. It doesn't have the famous split tailgate of the large Range Rover, but makes up for this with a 'gesture control' automatic boot open function…
The big Range Rover Sport is an accommodating machine for passengers. Occupants step up high into it (the air suspension can be lowered by 50mm to help entry and exit) and, once there, they enjoy a great view out that's extremely commanding and confidence-inspiring.
The famous 'Command' driving position has been made sportier-feeling but, despite feeling a bit more like you're sitting 'within' the car, you still feel like the king of the castle, looking down on other cars from the powerful forward view and clear side vision out of the big, deep windows and elbow-friendly ledges. Needless to say, the driving positon is roomy and fully adjustable: owners rate it extremely highly.
Rear seat passengers are just as well off. The high-mounted seats are firm, supportive and ample – great for long journeys if you're lucky enough to be in the outer two pews (the middle chair is a bit less comfortable). Leg and headroom are ample, even in Autobiography models which come with a standard panoramic roof.
The third row is, typically, a bit tricky to access and, once there, it's clear why Land Rover calls this a 5+2 rather than a genuine seven-seater like the Mercedes-Benz GLS. Admittedly, space isn't so bad, even if you're a lanky teenager, but it's not a place you'd like to sit in for long journeys. Treat them as emergency chairs only, perfect for the school run.
The SVR is even more comfortable for two people in the rear, courtesy of their sculpted chairs that are a bit like racing buckets. The middle passenger is even worse off though, left feeling decidedly perched. The SVR doesn't offer a seven-seat option either.
Click
here to buy or hire Range Rover Sport and buy car spare parts
in Uganda
Availability of Range Rover Sport Spares parts in Uganda
For the sport, spares are available although for some specific one you as the buy may have to send for them from abroad.
Our Verdict
If you can afford to run it, the Range Rover Sport is a hugely capable SUV which combines luxury, performance, and unbeaten off-road ability. There you are…
Click
here to buy or hire Range Rover Sport and buy car spare parts
in Uganda