Before you buy a Range Rover (L322) in Uganda
by Edwin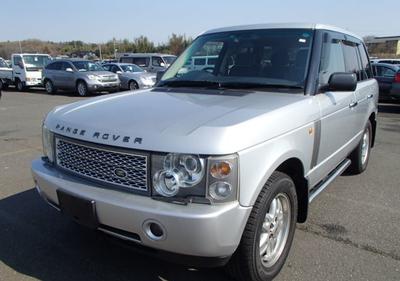 Range Rover (L322)
The Range Rover (L322) (usually known simply as the "Range Rover") is the third-generation Range Rover model from British car maker Land Rover.

The L322 was introduced in 2002 and had a production run of over 10 years. Planned and developed under BMW ownership, the vehicle was intended to share components and systems (electronics, core power units etc.) with the E38 7 Series. However, BMW had already sold Land Rover to Ford some 2 years before the L322 went into commercial production.


Before you buy a Range Rover (L322) in Uganda
The Land Rover "Range Rover" is the real king of premium 4WD. The engines have two variations; Jaguar-made 4.2-Liter V8 Supercharged with 396ps/57.1kgm (ABA-LM42S) and also Jaguar 4.4-Liter V8 with 306ps/44.9kgm (GH-LM44) both gasoline. The transmissions are 6AT with manual-like "Command Shift" as a sub function. The suspensions are electronically-controlled air suspensions for front and rear with high-adjusting control. The safety devices are ETC (Electronic Traction Control), DSC (Dynamic Stability Control), AFS (Adaptive Front Lighting System), CBC (Corner Brake Control) and EDC (Engine Drag Control), etc. These are the most advanced in the marketplace.
Click
here to buy or hire Range Rover (L322) and buy car spare parts
in Uganda
Buying a foreign used Range Rover from a local Ugandan car bond
There are a number of car bonds in Uganda specifically Kampala from which you can buy your Range Rover. However, you have to do good research in order to find a reputable car bond or dealer who will be able to provide you with the car that will meet your needs and above all genuinely imported into Uganda.
You need to look out for prices and discounts. Local car bonds may not charge the same prices for the same car. Prices of the Range Rover may be affected by mileage of the Range Rover, condition of the car, model, and year of manufacture.
Click
here to buy or hire Range Rover (L322) and buy car spare parts
in Uganda
Importing a foreign Used Range Rover (L322) from Japan or other parts of the world
In case if you prefer to import your own Range Rover from say Japan or from Europe, things change a bit. First it would require you to find a trusted dealer or seller in that regard, determine your specific car features and requirements, expected budget you plan to spend on buying the car and well calculated taxes to be paid to the tax authorities in order to clear Land Rover Defender.
It is also very important to examine the car upon arrival to check and see if all the car components are included in the car as it was shown to you before buying it. You need to watch out for car spare tires, car jack, radio, navigation systems, window buttons among other things as compared to the vehicle previews shown to you by the car dealer abroad.
The taxes charged by the Uganda Revenue Authority include Import Duty, Value added (VAT), Withholding Tax, Environmental Levy, Infrastructure Levy, and Registration Fees basing on the CIF of the Range Rover from Japan.
On arrival to Kampala, Uganda, you will have to clear the taxes at The Uganda Revenue Authority (URA), apply and pay for a number plate and then the third party license. You will also notice the some of these charges or fees differ from other vehicles.
Click
here to buy or hire Range Rover (L322) and buy car spare parts
in Uganda
General Range Rover (L322) reviews for Uganda
With its gargantuan size and good looks, the Range Rover smacks of luxury and makes quite the statement. While the Range Rover's sheer size is what first grabs you, it's what's under the skin that makes it more than just a 21st Century style icon.
The Range Rover gets sleek gills on the front doors and the wraparound tail-lights help disguise its sheer bulk. What's more, the designers at Land Rover have cleverly managed to create a contemporary looking SUV without abandoning the classic Range Rover design cues – the clamshell bonnet, 'floating' roof and split tailgate are all present and correct.
Jaguar Land Rover has recently updated its infotainment system to InControl Touch, which is a big improvement on the old-fashioned software its cars had before. InControl Touch is not quite as slick as BMW's iDrive, but it is fine to use and has better control interfaces than before, making it more intuitive and less frustrating to use. So if you going to buy yourself a latest Range Rover expect to have this at your exposure all suited to for your pleasure.
While its looks have evolved, the Range Rover's principles of rugged usability and practicality have remained, and this is what gives it an advantage over more traditional luxury car rivals.
On the standard wheelbase Range Rover, rear space is fine. There's more room than you'll find on a Bentley Bentayga, with plenty of width and a flat floor for three people to sit alongside each other in comfort. If that's still not enough space, the long wheelbase Range Rover gets 200mm extra length.
If the front passenger is willing to edge their seat forward a bit, a six-foot passenger can pretty much stretch their legs out in the Long Wheelbase Range Rover, especially if they make use of the leg rest and recline the rear seat.
Click
here to buy or hire Range Rover (L322) and buy car spare parts
in Uganda
Availability of Range Rover (L322) Spare Parts in Uganda
The Range Rover spares are available in the auto markets. For any special spare part needed you can contact us and we help you get it.
Our Conclusion
The Range Rover has an Incredible refinement, high-quality interior, go-anywhere ability. Need a bargain? Definitely not with this SUV!
Click
here to buy or hire Range Rover (L322) and buy car spare parts
in Uganda