Before you buy a Range Rover Evoque in Uganda
by Edwin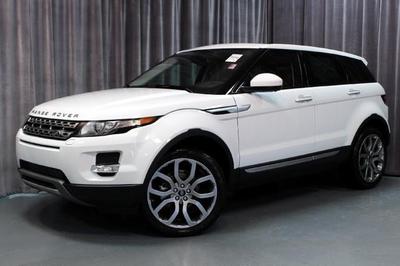 The Range Rover Evoque is a compact luxury crossover SUV produced by the British manufacturer Land Rover, part of Tata's Jaguar Land Rover group. It has been produced since July 2011 in three and five-door versions, with both two-wheel and four-wheel drive. The Evoque is designed to appeal to urban buyers and meet requirements for lower CO2emissions and fuel economy.


Before you buy a Range Rover Evoque in Uganda
The Range Rover Evoque is Land Rover's most successful ever model – and it's easy to see why. It's not quite a cut-price range Rover, but a lot of the tech, capability and style have been crammed inside this compact SUV.
The Evoque has been around since 2011 and only seen minor updates since then, but it remains smooth to drive, comfortable to sit in and has never been cheaper to run thanks to the addition of JLR's new Ingenium diesel engines.
For those who prefer the small range rover have opted for the evoque here in Uganda.
Click
here to buy or hire Range Rover Evoque and buy car spare parts
in Uganda
Buying a foreign used Range Rover Evoque from a local Ugandan car bond
There are a number of car bonds in Uganda specifically Kampala from which you can buy your Range Rover Evoque. However, you have to do good research in order to find a reputable car bond or dealer who will be able to provide you with the car that will meet your needs and above all genuinely imported into Uganda.
You need to look out for prices and discounts. Local car bonds may not charge the same prices for the same car. Prices of the Range Rover Evoque may be affected by mileage of the Range Rover Evoque, condition of the car, model, and year of manufacture.
Click
here to buy or hire Range Rover Evoque and buy car spare parts
in Uganda
Importing a foreign Used Range Rover Evoque from Japan or other parts of the world
In case if you prefer to import your own Range Rover Evoque from say Japan or from Europe, things change a bit. First it would require you to find a trusted dealer or seller in that regard, determine your specific car features and requirements, expected budget you plan to spend on buying the car and well calculated taxes to be paid to the tax authorities in order to clear Land Rover Evoque.
It is also very important to examine the car upon arrival to check and see if all the car components are included in the car as it was shown to you before buying it. You need to watch out for car spare tires, car jack, radio, navigation systems, window buttons among other things.
The taxes charged by the Uganda Revenue Authority include Import Duty, Value added (VAT), Withholding Tax, Environmental Levy, Infrastructure Levy, and Registration Fees basing on the CIF of the Range Rover Evoque from Japan.
On arrival to Kampala, Uganda, you will have to clear the taxes at The Uganda Revenue Authority (URA), apply and pay for a number plate and then the third party license. You will also notice the some of these charges or fees differ from other vehicles.
Click
here to buy or hire Range Rover Evoque and buy car spare parts
in Uganda
General Land Rover Defender reviews for Uganda
The Evoque was facelifted in 2014, but it kept its overall styling the same. However, the line-up has been expanded with new interior and exterior colours, new trims and a subtly redesigned badge on the boot lid and grille. The MY17 updates added infotainment upgrades, as well as a new Ember Special Edition, with gloss red and black details for the exterior styling.
While the cabin looks good, it's also pretty well equipped. You get heated leather seats as standard and two-zone climate control is also included. Plus, there are plenty of extras you can add.
One downside of Evoque ownership used to be that you had to use Land Rover's rather dated infotainment system, which still lags behind BMW's iDrive system for functionality. However a round of updates for the 2017 Model Year brought in JLR's InControl Touch Pro system, which is much improved and features HD graphics with pinch-to-zoom functionality.
Getting to the boot space and comfort, the Range Rover Evoque is by no means small, at almost five meters long and two meters high. It's no surprise then, that there's plenty of space for passengers
It's worth noting that the low-slung roofline on the Evoque means headroom is a bit tight, and shallow side windows create a slightly hemmed-in feel when you sit in the rear.
Look elsewhere in the cabin and you'll discover plenty of useful storage space and a number of handy cup-holders. The five-door Evoque is spacious enough thanks to its vast 420-litre boot, but rivals are more spacious.
Click
here to buy or hire Range Rover Evoque and buy car spare parts
in Uganda
Availability of Range Rover Evoque Spares parts in Uganda
Spare parts for the Range Rover Evoque are not readily available in Uganda basically because of the low number of owners in Uganda and also due to lack of an authorized distributer of the Land Rover spare parts in the country. So you be required to make orders for you Range Rover Evoque spare parts from outside countries.
To place an order for your Range Rover Evoque you ought to have the model of the car, chassis number and other specification as deemed by your dealer.
Our Conclusion
With go-anywhere 4x4 ability or 2WD on-road efficiency, the stylish Range Rover Evoque is an in-demand SUV that you can rely on to go anywhere in Uganda.
Click
here to buy or hire Range Rover Evoque and buy car spare parts
in Uganda