Before you buy a Porsche Cayenne in Uganda
by Edwin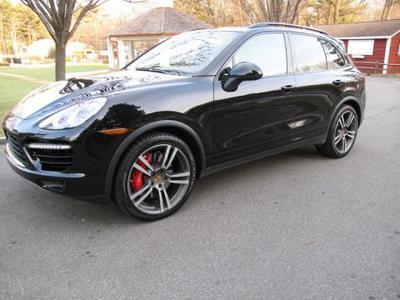 The Porsche Cayenne (Type 9PA, Designated 955 is a mid-size luxury crossover sport utility vehicle produced by the German manufacturer Porsche since 2002, with North American sales beginning in 2003.

It is the first V8-engined vehicle built by Porsche since 1995, when the Porsche 928 was discontinued. It is also Porsche's first off road Varient sports car since its Super and Junior tractors of 1950s, and the first Porsche with four doors. Since 2008, all engines have featured direct injection technology.


Before you buy a Porsche Cayenne in Uganda
If you're looking for a full-size SUV with family practicality, but hanker after the performance of a sports car, then the Porsche Cayenne could be just the car for you. The second generation car is better than its predecessor in every area – with improved performance, efficiency and less ostentatious styling.
The Cayenne's amazing driving dynamics and sporty ambience don't come without compromise though, as other luxury SUVs have a more spacious feel and offer even greater practicality.
Click
here to buy a Porsche Cayenne or car spare parts
in Uganda
Buying a foreign used Porsche Cayenne from a Ugandan car bond
There are a number of ways you can buy a Porsche Cayenne in Uganda today and one of the simple ways is through a car bond. Here, everything has been done by your car bond dealer.
All you have to do is simply pay for the car from the car bond and drive home. However, you can also find that some Porsche Cayenne have only been cleared the CIF fees only. So it would mean that if you want a Porsche Cayenne then you will have to clear the rest of the taxes.
You can find the Cost, Insurance and Freight of a Porsche Cayenne (that is from Japan to Kampala) to be around $ 3,000 or even above as stated by the car bond dealers.
However, the total sum of the CIF can change due to year of manufacture, condition of the car, mileage and the dealer you choose to buy the car from.
Importing a foreign used Porsche Cayenne from Japan
If you prefer to import you own Porsche Cayenne from say Japan, the things would change a bit. First it would require you to find a trusted dealer or seller in that regard, your specific car features and requirements, expected budget you plan to spend on buying the car and well calculated taxes to be paid to the tax authorities in order to clear Porsche Cayenne.
The taxes charged by the Uganda Revenue Authority include Import Duty, Value added (VAT), Withholding Tax, Environmental Levy, Infrastructure Levy, and Registration Fees basing on the CIF of the Porsche Cayenne from Japan.
Click
here to buy a Porsche Cayenne or car spare parts
in Uganda
General Porsche Cayenne reviews for Uganda
When Porsche first launched its Cayenne, looks were a major talking point. However, the styling has evolved and it's become much more attractive. This face lifted version of the Mk2 car is arguably the prettiest model ever produced.
Unfortunately, the looks are actually rather restrained when compared to rivals such as the BMW X6 and Range Rover Sport. The boxy proportions are pure SUV, and the car shares its overall shape with the VW Touareg, which is built on the same platform.
Inside, the Cayenne instantly feels more like a sports car. Porsche's familiar, five-dial set-up sits right in front of you, while the lower driving position and high centre console give the impression of a performance coupé. This is reinforced by a steering wheel design that's been carried over from the brand's 918 hypercar.
Despite the Cayenne's raised ride height, a low seating position gives it a sporty feel, which is enhanced by the sculpted steering wheel and metal shift paddles, plus a console that wraps around the driver. The front seats are very supportive during hard cornering, as well as offering excellent long-distance comfort.
The Cayenne's rear seats slide back and forth altering the amount of room available for rear passengers and luggage, but overall the space inside is generous for five people. There's plenty of leg- and headroom in the back, and the rear seats recline too. There's no optional third row, but Isofix child seat mounts do come as standard.
At the back, the squared-off rear means there's a huge 670 litres of space on offer, which expands to 1,780 litres with the split-folding rear seats stowed. A powered tailgate is standard to aid access, but while the boot is bigger than the BMW X5's, it's actually smaller than both the Mercedes M-Class and the Range Rover Sport. Add the optional air-suspension, and it can be lowered from the boot to aid access.
Click
here to buy a Porsche Cayenne or car spare parts
in Uganda
Availability of Porsche Cayenne spare parts in Uganda
The spare parts of the Porsche Cayenne are not so common in Uganda. You may just have to send for them from outside countries like those in Europe or Dubai. Spares could be scarce mainly due to the fact that Porsche Cayenne is a rear car in Uganda. Few people actually own Porsche Cayennes which make it un-profitable for the spare part sellers to import its spare parts.
Porsche Cayenne competitors in Uganda
We have the Range Rover Sport, BMW X5, Mercedes M-Class formatic, Volkswagen Toureg, among others.
Click
here to buy a Porsche Cayenne or car spare parts
in Uganda
Depreciation of the Porsche Cayenne in Uganda
When you opt to buy a car like the Porsche Cayenne be sure that you not going to get rid of it so soon especially if you want quick money out of it. Porsche Cayenne don't sell so much here in Uganda.
Our Verdict
Neither does the Cayenne come cheap, especially once you start ticking boxes on the expensive options list - and you will, as the standard spec is notoriously stingy across all models.
But if you're fortunate enough to be able to afford it, the Cayenne's charms rapidly consign such negative thoughts to the sidelines – as proven by the model's global popularity. Till next time.
Click
here to buy a Porsche Cayenne or car spare parts
in Uganda