Before you buy a Nissan Patrol in Uganda
by Edwin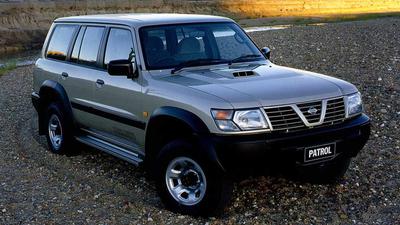 The Nissan Patrol is a series of large four-wheel drive vehicles manufactured by Nissan in Japan since 1951. The Patrol is generally regarded as a tough and utilitarian 4×4 in Australia and New Zealand, the Middle East, Latin America, Africa, Europe, Japan, and the Caribbean, where it competes directly with the Toyota Land Cruiser which is its main rival in those markets. In the United States and Canada, it competes in the luxury SUV segment where it carries the upscale Infiniti brand.


Before you buy a Nissan Patrol in Uganda
The Patrol is one of the mightiest off roaders that money can buy, but with buyers wanting ever higher levels of luxury in their 4x4s Nissan had a bit of a dilemma. A significant overhaul late in 2004 saw Nissan's rugged range-topping 4x4 get an all new look with everybody panel bar the roof being changed. Fared in fog lamps, the Nissan corporate grille and an even more chunky look undoubtedly add appeal to this big machine, as does the revised interior with new fabrics and plastics inside.
Click
here to buy a Nissan Patrol or car spare parts
in Uganda
Buying a foreign used Nissan Patrol from a Ugandan car bond
There are a number of ways you can buy a Nissan Patrol in Uganda today and one of the simple ways is through a car bond. Here, everything has been done by your car bond dealer. All you have to do is simply pay for the car from the car bond and drive home. However, you can also find that some Nissan Patrol have only been cleared the CIF fees only. So it would mean that if you want a Nissan Patrol then you will have to clear the rest of the taxes.
You can find the Cost, Insurance and Freight of a Nissan Patrol (from Japan to Kampala) to be around $ 18,000 or even above as stated by the car bond dealers. However, the total sum of the CIF can change due to year of manufacture, condition of the car, mileage and the dealer you choose to buy the car from. A Nissan Patrol can cost you up to Ugx 90,000,000 here in Kampala Uganda.
Importing a foreign used Nissan Patrol from Japan
If you prefer to import you own Nissan Patrol from say Japan, the things would change a bit. First it would require you to find a trusted dealer or seller in that regard, your specific car features and requirements, expected budget you plan to spend on buying the car and well calculated taxes to be paid to the tax authorities in order to clear Nissan Patrol.
The taxes charged by the Uganda Revenue Authority include Import Duty, Value added (VAT), Withholding Tax, Environmental Levy, Infrastructure Levy, and Registration Fees basing on the CIF of the Nissan Patrol from Japan.
Click
here to buy a Nissan Patrol or car spare parts
in Uganda
General Nissan Patrol reviews for Uganda
Mechanically little has changed, the turbocharged 3.0-litre diesel pumps out plenty of torque, enabling it to tow just about anything, but it's no fireball, especially when fitted to the automatic transmission.
The four-wheel-drive system will keep you going whatever the conditions though, the Patrol rightfully held in high regard by those drivers in inhospitable areas who rely on such machines as a lifeline. Practicality, with its big boot and plentiful seats, is high, while standard specifications are generous too. Not able to compete with the up market luxury 4x4s in image or desirability there's an honest workman like appeal to the Nissan, which allows you to forgive it its dim-witted responses on road. That and it's a fair bit cheaper than the majority of large luxury 4x4s.
However, unless you really need its rugged ability and seven seats then Nissan's own Murano offers a far more tempting proposition - particularly on the road.
Click
here to buy a Nissan Patrol or car spare parts
in Uganda
Availability of Nissan Patrol spare parts in Uganda
Spare parts are readily available. Should you get a mechanical problem with your Nissan Patrol, there will be plenty of mechanics to help you out around town.
Nissan Patrol alternatives in Uganda
We have the Toyota Land cruiser (J70) as the major rival to the Nissan Patrol here in Uganda.
Click
here to buy a Nissan Patrol or car spare parts
in Uganda.
My Final Verdict
As nostalgic as the Hey,its time to the village, the Nissan Patrol has rightly built its cult following, despite lacking some non-negotiable safety kit. There are far more comfortable ways to tackle tarmac, but if your morning commute requires you to take the roads less travelled, then the Nissan Patrol is a huge amount of fun.