Before you buy a Nissan Pathfinder in Uganda
by Edwin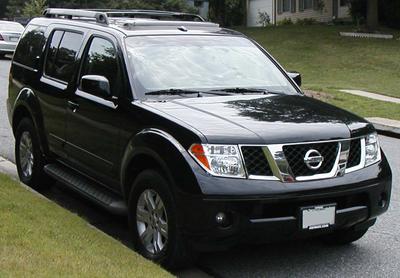 The Nissan Pathfinder/Terrano is a mid-size crossover SUV manufactured by Nissan Motors since 1985, derived from Nissan's compact pickup truck platform. The Pathfinder is positioned in size between the Murano and Armada or Patrol, but in price between the Xterra and Murano.


Before you buy a Nissan Pathfinder in Uganda
The Nissan Terrano is designed for an active lifestyle. This recreational vehicle is a cross country model that delivers performance and drivability. Available in 2-door and 4-door models, the overall design is based on the Datsun pickup truck.
Choose between three performance engines: the V6, inline four diesel engine, or the inline four turbo-diesel engine. The standard transmission is AT but MT is available until 1999. Pick the 4WD or the FWD variant depending on r needs.
Buying a foreign used Nissan Pathfinder from a Ugandan car bond
There are a number of ways you can buy a Nissan Pathfinder in Uganda today and one of the simple ways is through a car bond. Here, everything has been done by your car bond dealer. All you have to do is simply pay for the car from the car bond and drive home.
However, you can also find that some Nissan Pathfinder have only been cleared the CIF fees only. So it would mean that if you want a Nissan Pathfinder then you will have to clear the rest of the taxes.
You can find the Cost, Insurance and Freight of a Nissan Pathfinder (that is from Japan to Kampala) to be around USD 3,000 or even above as stated by the car bond dealers. However, the total sum of the CIF can change due to year of manufacture, condition of the car, mileage and the dealer you choose to buy the car from.
Click
here to buy or hire a Nissan Pathfinder and Car Spare parts
in Uganda
Importing a foreign used Nissan Pathfinder from Japan
If you prefer to import you own Nissan Pathfinder from say Japan, the things would change a bit. First it would require you to find a trusted dealer or seller in that regard, your specific car features and requirements, expected budget/price you plan to spend on buying the car and well calculated taxes to be paid to the tax authorities in order to clear Nissan Pathfinder.
You will also require to clear all the fee of Cost, Insurance and Freight commonly referred to as CIF of your Nissan Pathfinder.
The Cost is the initial price of the Nissan Pathfinder, Insurance is meant to safe guard the car against any risk the Nissan Pathfinder may encounter on its way to Kampala and finally the Freight fee is to ship n transport the Nissan Pathfinder up to Kampala.
The taxes charged by the Uganda Revenue Authority include Import Duty, Value added (VAT), Withholding Tax, Environmental Levy, Infrastructure Levy, and Registration Fees basing on the CIF of the Nissan Pathfinder from Japan.
Click
here to buy or hire a Nissan Pathfinder and Car Spare parts
in Uganda
General Nissan Pathfinder reviews for Uganda
The Nissan Pathfinder interior, design and technology. The Nissan Pathfinder doesn't try too hard to be stylish, with a simple, boxy design. But because of its large dimensions, as well as its imposing nose and distinctive wheel arches, it has decent presence on the road. There's a choice of Acenta and Tekna specs, and the former features 17-inch alloy wheels, as well as a chrome front grille, practical roof rails and privacy glass on the rear windows.
Aluminium body protection also features on the door sills and tailgate. Tekna models stand out with 18-inch alloys and side steps, as well as xenon headlights.
Inside, you sit very high up, and can never get away from the car's sheer size. But all Pathfinders feel solidly constructed, and while there's not a lot of design flair in evidence, the layout is as simple and easy to use as you expect from Nissan.
About the comfort and boot space, as it's based on the Navara pick-up, the Pathfinder impresses with its practicality. You obviously don't get the large load bed of its sister model, but the dimensions are roughly the same – so there's plenty of room for seven people when you need it, while the rear seats can be folded into the floor to provide van-like carrying capacity. With all the seats in position, boot size stands at 190 litres. Fold the rearmost seats, and you have 515 litres to play with. You can then fold the three seats in the middle row to get an enormous 2,091-litre capacity.
Click
here to buy or hire a Nissan Pathfinder and Car Spare parts
in Uganda
Availability of Nissan Pathfinder spare parts in Uganda
Just like Nissan Navara, the Nissan Pathfinder spare parts are readily available in Uganda.
Nissan Patrol alternatives in Uganda
We have the Toyota land cruiser, land rover discovery and VW Touareg
Our Final Verdict
We have don't have a lot to say about the Nissan Pathfinder as most of its features, style and tech speak for itself. You need to go upcountry characterized with those ragged roads, then it can offer a cool ride in and out…till next time.
Click
here to buy or hire a Nissan Pathfinder and Car Spare parts
in Uganda