Before you Buy a Nissan NP300 Hardbody in Uganda
by Edwin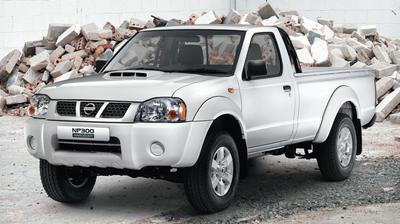 Nissan Hardbody
The Nissan NP300 Hardbody is the unmistakable king of African pickups, having earned an enviable reputation over the years for reliability and ruggedness.

In virtually any situation and on just about any type of terrain, you can depend on it to get the job done every time – no matter what your need are.

Known by many names, this major Asian conglomerate has been making cars since 1914. Today, Nissan is the third largest automaker in Japan. The Nissan Motor Company took over the Datsun company in 1933 and in 1934 it would take on the name we all know today.


Before you buy a Nissan NP300 Hardbody in Uganda
Nissan's NP300 Hardbody has received a few changes for the 2008 model year, and, now available in Uganda, Nissan claims that it offers "an even better value for money prospect with increased comfort specification, safety features and performance".
The NP300 nomenclature is new to the South Ugandan market. Globally the Hardbody is known as the NP300 and we decided to therefore introduce the upgraded model range as the NP300 Hardbody.
The 'N' stands for Nissan and the 'P' for Pickup, while the '300' is the series number in the commercial line-up.
Nissan NP300s are mainly used by organizations like UMEME a Local Electricity Distribution Company.
Spare parts can be readily accessed from Motor Care Uganda the authorized distributors of Nissan motors in Uganda.
These Pick-ups are generally expensive to buy by the common man due to their high costs/prices. So because of this you will find that there are very few people who actually own them here in Uganda as their personal vehicles.
Click
here to buy a Nissan NP300 Hardbody
in Uganda
Buying a Nissan NP300 Hardbody Ugandan car bond
Buying a Nissan NP300 Hardbody from a Ugandan Car bond can cost up to 50 million Uganda shillings for a recent year of manufacture and latest model.
However, prices can vary depending on the year the condition of the truck. For those that have been used in Uganda for some time can cost around 15 to 30 million Ugandan shillings.
Expect to get some Nissan NP300 Hardbody at lower prices like those that have been auctioned off by government ministries.
Importing a used Nissan NP300 Hardbody from Japan
In case you're to buy a Used Nissan NP300 Hardbody from Japan you may have to pay averagely about $ 2,000 – $10,000 and more depending on the condition of the car, model, car dealer you use and year of manufacture.
However, the quoted price typically does not include Freight to Mombasa port and transportation from Mombasa port to Uganda. Additionally, it excludes taxes charged by the Uganda Revenue Authority which include Import Duty, Value added (VAT), Withholding Tax, Environmental Levy, Infrastructure Levy, and Registration Fees.
These costs may end up increasing your final cost of Nissan NP300 Hardbody.
Click
here to buy a Nissan NP300 Hardbody
in Uganda
Common Problems Owners of Nissan NP300 Hardbody face while in Uganda
Apart from the common and minor problems like suspension bushes, shock absorber, the Nissan NP300 Hardbody has other problems, for example, flat batteries, and costly spare parts in general as compared to the Toyota brands.
Reasons as to why Ugandans buy the Nissan NP300 Hardbody
The Nissan NP300 Hardbody reigns over loads big and small.
Designed to keep heavy or bulky loads from sliding around during transit, these convenient cargo hooks make securing any payload a snap.
Click
here to buy a Nissan NP300 Hardbody
in Uganda
Other alternatives available in Uganda similar to the Nissan NP300 Hardbody
These may include the Ford Ranger and Toyota Hilux Pick-Up
Briefly about the interior of a Nissan NP300 Hardbody
Nissan has added aircon as standard on some models in this range, and, on the Workhorse range, the company has included a new dashboard layout, vinyl floor covering, a new four spoke steering wheel, door panel storage pockets and warning lamps for water, fuel and temperature.
Entertainment in the Hi-Rider Double Cab is a six CD changer.
Safety features in the NP300 Hardbody include driver and passenger airbags as standard in certain models, halogen headlamps and side headlamp reflectors are now available on the entire workhorse line-up, collapsible steering columns, side impact protections bars, integrated front crumple zones and integrated nudge bars and roll bars on all Hi-Rider Single and double cab models.
Click
here to buy a Nissan NP300 Hardbody
in Uganda
My Final Thoughts about Buying a Nissan Hardbody
If your Ugandan business needs to perform in all conditions, then Nissan NP300 Hardbody rises to the challenge.
With a range of petrol and diesel engines that combine low fuel consumption with long service intervals, it performs as well on the books as it does on the job.