Before you buy a Nissan Fuga in Uganda
by Edwin
(Kampala, Uganda)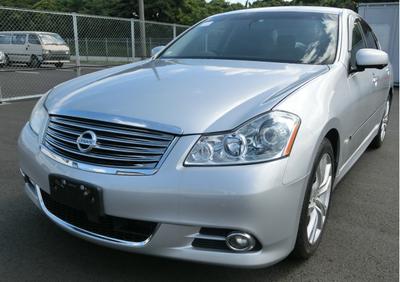 Nissan Fuga 2008

The Nissan Fuga is a full-size luxury sedan produced by Japanese automaker Nissan since October 2004. It is built on a wider, stretched wheelbase version of the Nissan FM platform.



Before you buy a Nissan Fuga in Uganda
The Nissan Fuga is the flagship model that has everything you're looking for in a luxury sedan. The interior is comfortable and stylish. The performance is also impressive with the help of its V6 engine. The sporty design gives it elegance and class. This model is cleverly named from the Italian word for "flight" and is known to be fuel efficient when compared to other vehicles in its class. You can choose between the rear wheel drive or four wheel drive system, depending on your preference.
Click
here to buy a Nissan Fuga
in Uganda
Buying a Nissan Fuga in a Ugandan car bond
Now, this is one of the costly Japanese sedans you can find in Uganda. Buying a Nissan Fuga 2008, for example from a Ugandan Car bond like Yuasa, or Beforward Uganda, it is most likely to cost you between 38 to 43 million Uganda shillings for a recent year of manufacture and latest model. For those that have been used in Uganda or locally used within Uganda for some time can cost around 15 to 22 million Ugandan shillings.
Importing a used Nissan Fuga from Japan
What about if you opt to import one from abroad specifically japan? Well, you will likely pay averagely about $ 1,500 – 3,500 depending on condition of the car, model and the car dealer you may prefer to use. However the quoted price typically does not include Freight to Mombasa port and transportation from Mombasa port to Uganda. Additionally it excludes taxes charged by the Uganda Revenue Authority which include Import Duty, Value added (VAT), Withholding Tax, Environmental Levy, Infrastructure Levy, and Registration Fees. For example a Nissan Fuga 2008 that costs $3,450 in japan will have a total Cost Insurance and Freight (CIF) cost of $ 5,902 to Kampala in Uganda. So if you are to buy this very sedan, you will have to pay an additional $3,454 worth of taxes to URA to have the vehicle fully operational on Ugandan roads. For more details about these calculations, please contacts us and we shall gladly help you out.
Click
here to buy a Nissan Fuga
in Uganda
Common Problems Owners of Nissan Fuga face while in Uganda
Major problems are interior accessories problems like door lock malfunctioning, dash board melting or fading, factory radio coming out among others. Transmission problems get the second ranking and then the engine problems. So if you consider owning a Nissan Fuga then you need to pay more attention in those areas.
Reasons as to why Ugandans buy the Nissan Fuga
As mentioned before, the Nissan Fuga is the flagship model that has everything you're looking for in a luxury sedan. The Nissan Fuga comes with Comfort, power, quality and at an affordable price. The exterior styling, interior, the drive the engine and efficiency are all top notches. Surely one who meets up the price can't avoid this executive sedan.
Click
here to buy a Nissan Fuga
in Uganda
Other Nissan Fuga luxury sedan alternatives available in Uganda similar to the Nissan Fuga
The Nissan Fuga is set to rival the European BMW 5 series, Mercedes E-class, Audi A6, Jaguar XF, the American Cadillac CTS, and the Japanese Acura RLX, Honda Legend, Infiniti M, and Toyota Crown.
Briefly about the interior of a Nissan Fuga
This is where paying a little more than you would for a 250 or 350GT Fuga really makes a statement. The Full leather interior is always a nice start and even used models maintain the nice leather smell.
Comes with all the bells and whistles you need out of a luxury sedan like navigation, backing monitors and cruise control, as well as extra's that you don't, but are nice to have anyway such as the passenger side curb camera and all the little control buttons on the steering wheels.
One feature I really liked was the automatic seat setting when you get in and get out. When you turn the car on, it slides you into position and presents you with the control and when you arrive at your destination, it slides you back and gets the steering wheel out of the way, giving you a lot of space to disembark.
My favorite feature is still the front passenger's recliner style footrest. Not only is it awesomely comfortable, but it is a testament to the space available in the cabin of the Fuga. Even reclined with the footrest up, the backseats have a tone of room. The tallest of my friends had no complaints about sitting behind the lounging front seat passenger.
In general
A deal like this on a luxury sedan is hard to come by and the Fuga is arguably the cheapest on the market and for this reason, I would drive this car. This is overwhelmingly backed up by the fact that you just get full leather, great seats, a V8/V6 engine and a nice all round style. You just get so much for your money.
Click
here to buy a Nissan Fuga
in Uganda