Before you buy a Nissan Cube in Uganda
by Edwin
(Kampala, Uganda)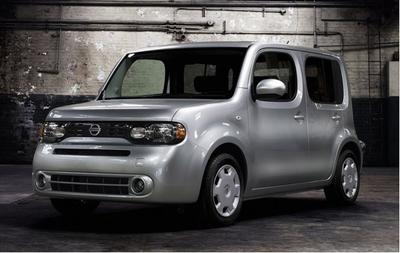 Nissan Cube 2010 in Uganda

The Nissan Cube is a mini MPV produced by Japanese car-maker Nissan since 1998.

Initially sold only in Japan, the Cube has been sold in North American and European markets since 2009, although discontinued in Europe in 2011.

It is essentially a slightly larger load carrying alternative to the Nissan March hatchback.



Before you buy a Nissan Cube in Uganda
The cleverly named Nissan Cube speaks for itself. The tall compact body wants to emphasize space utility for practical use. The Cube was first released in 1998 and it became a popular compact car given the high head space in the interior.
For models released starting 2002, the rear features asymmetrical lateral-sliding doors for ease of use. Don't let the size trick you as the Cube is equipped with an in-line four cylinder engine to make sure you have enough power.
Choose from CVT (Continuously Variable Transmission) and Automatic Transmission, depending on your preference, but models after November 2008 are only available in the former.
This car also comes in FF (Front Wheel, Front Engine) and Four Wheel Drive layout if you're looking for more acceleration on rough terrain.
Click
here to buy a Nissan Cube
in Uganda
Buying a Nissan Cube in a Ugandan car bond
Buying a Nissan Cube from a Ugandan Car bond can cost up to 30 million Uganda shillings for a recent year of manufacture and latest model.
When the car has been used in Uganda for some time; the cost could reduce to around 13 to 19 million Ugandan shillings.
Importing a used Nissan Cube from Japan
In case you're to buy a Used Nissan Cube from Japan mainly you may pay averagely about $ 850 – $2,000 depending on the condition of the car, model and the car dealer you use.
However, the quoted price typically does not include Freight to Mombasa port and transportation from Mombasa port to Uganda. Additionally, it excludes taxes charged by the Uganda Revenue Authority which include Import Duty, Value added (VAT), Withholding Tax, Environmental Levy, Infrastructure Levy, and Registration Fees.
These costs may end up increasing your final cost of Nissan Cube to around $ 8,000 or even more for later models.
Click
here to buy a Nissan Cube
in Uganda
Common Problems Owners of Nissan Cube face while in Uganda
The Nissan Cube has not registered many problems and complaints apart from particular models like the 2009 Cube which had high in steering column lock malfunctioning, leading to total car disable, 2011 cube has rampant transmission failure and the 2010 Cube having steering lock assembly malfunctioning as well.
Reasons as to why Ugandans buy the Nissan Cube
The Nissan Cube is not just the box from inside; rather it is a box outside as well.
The level of protection and class that this vehicle brings make it a box of greater significance standing distinctively for better future.
This car is easy to park, easy to drive around town, has low fuel consumption with its 1.4L CR14DE 14 or 1.5L HR15DE 14 engines for the second generation, or 1.5L HR15DE 14, 1.6L HR16DE 14, 1.8L MR18DE 14 engines.
Other alternatives available in Uganda similar to the Nissan Cube
We have the Nissan March, Mini Cooper, Suzuki SX4 Sportback, Kia Soul, Scion xB, Ford Fiesta and Honda CR-Z.
Click
here to buy a Nissan Cube
in Uganda
The interior of a Nissan Cube
Modest materials and hard plastics are used to good effect for a pleasant cabin that presents better than many class rivals.
The Cube offers a lot of headroom--more than the Scion xB and the Soul in the front and as much as the Soul in the rear. Large adults will find plenty of room on comfortable seats.
For the rear seats, most adults should have enough headroom and legroom, but taller folks may wish for a bit more knee space behind a front seat pushed all the way back.
The rear seat can slide fore and aft to favor cargo or passenger room, and the split seatbacks can recline independently.
The base Cube is surprisingly well-equipped and includes air conditioning, remote keyless entry, a tilt steering column, an audio system with two speakers and an auxiliary audio input jack.
And cargo room is plentiful. Behind the rear seats there's an adequate 11.4 cubic feet of space, but fold the second-row seats flat and it increases dramatically to 58.1 cu.-ft. That's eight more cubic feet than the utilitarian Nissan Versa hatchback offers.
Click
here to buy a Nissan Cube
in Uganda
Last take on this Ugandan Car
The Nissan Cube is a favorite among the automotive press for its eccentric design and excellent utility. Design touches like the headliner, which looks like a drop of water, and innovative storage options show that every aspect of this car was carefully planned out.
Overall whether it is the latest brand or oldest one, the Nissan Cube price is well justified.
Click
here to buy a Nissan Cube
in Uganda