Before you buy a Mitsubishi Pajero Mini in Uganda
by edwin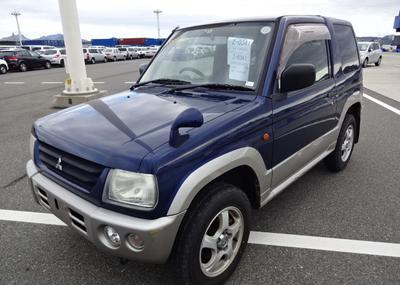 2000 MITSUBISHI PAJERO MINI
Based on the platform of the Minica, the Pajero Mini was styled as a miniature version of the company's successful Pajero sport utility vehicle, in response to the SUV craze of the late 1980s and early 1990s.

Compared to the full-sized original, the kei vehicle featured a shorter wheelbase, four-wheel drive, and a choice of naturally aspirated or turbocharged 660 cc four cylinder engines.


Before you buy a Mitsubishi Pajero Mini in Uganda
The Mitsubishi Pajero Mini is styled after the popular full-size Pajero. Its short wheelbase makes it nimble and easy to maneuver.
It can be had with either a naturally aspirated or turbocharged four-cylinder engine. Four-wheel drive is also offered, meaning the Pajero Mini can get your where you need to go, no matter the driving conditions.
Of late the Pajero Mini has got the attention of many people especially those who want to small Mini SUVs.
SUVs are becoming something of late in Uganda and the Pajero Mini is not exempted from market. Single lads, students at the university find this car amicable for daily commuting.
Click
here to buy a Mitsubishi Pajero Mini
in Uganda
Buying a Mitsubishi Pajero Mini from a Ugandan car bond
If you opt to buy Mitsubishi Pajero Mini from the a car bond in and around Kampala, then things could be a little bit more simpler for you because you will not have to face all the lengthy processes and journeys to the port to own the car. Here most of the work has already been done for you.
Most taxes have been cleared. All you have to do is simply pay for the car from the car bond and drive home. However, you can also find that some cars have only cleared the CIF fees only.
So it would mean that if you want a Mitsubishi Pajero Mini then you will have to clear the rest of the taxes. You can find the CIF of the Mitsubishi Pajero Mini (that's up Kampala from Japan) to be around $ 2,000.
However, the cost of the CIF can change due to year of manufacture, condition of the car, and the dealer. In general, Mitsubishi Pajero Mini can cost you around UGX 20,000,000.
Importing a used Mitsubishi Pajero Mini from Japan
Now this is different from buying from car from the car bond here in Kampala. Some people prefer to import their own cars directly from Japan.
This means all the costs are going to be met by you the owner of the car right from say Japan to Mombasa up to Uganda.
Here you need to determine the cost of the car while still in Japan from which the Cost, Insurance and Freight (CIF) are calculated. After that, arrangements are made to ship the car to Kampala, Uganda.
After arriving in Kampala, then the required taxes have to be cleared. The taxes charged by the Uganda Revenue Authority include Import Duty, Value added (VAT), Withholding Tax, Environmental Levy, Infrastructure Levy, and Registration Fees.
When all this is done, then you are free to drive home in you Mitsubishi Pajero Mini.
Click
here to buy a Mitsubishi Pajero Mini
in Uganda
General Mitsubishi Pajero Mini reviews
This is a very good vehicle for short range commuting. Ideal for bachelors, or a very small / young family that just got started... Very powerful on the 4x4 scene, especially when off roading on LOW 4 selection.
High revs make this car heavy on the economy (around 9 km/l - but different cars may vary on the mileage).
I would however not recommend this where intercity travel (highways, motorways etc.) is required, for this vehicle is not intended for high speed / sustained driving.
Also, watch out for oil issues in this car if the engine / seals etc. begin to drip over. I drove the 5 forward manual transmission, but felt at times it needed another gear... the engine is quite on the outside.
A good experience overall, and value for money in shape of small SUV. A reasonable AC, power steering and 4x4 ride.
Common Problems Owners of Mitsubishi Pajero Mini face while in Uganda
Apart from the common and minor problems like suspension bushes, shock absorbers, the Mitsubishi Pajero Mini tends to consume a lot of fuel for its size. A number of complaints have been raised on that issue.
Secondly, Pajero spare parts are quite expensive here in Uganda. That doesn't exclude the Pajero Mini. Also aerodynamics so poor.
In the wrong hands, the Pajero Mini will spin out easily in hard corners...but this is really just a warning to absolute novice dummies!
Mitsubishi Pajero Mini Substitute Cars in Uganda
Other alternatives available in Uganda similar to the Mitsubishi Pajero Mini
We have the Toyota RAV 4, Suzuki Jimmy, and Honda CRV.
Click
here to buy a Mitsubishi Pajero Mini
in Uganda
Some additional remarks about this Ugandan Car
The popularity of the vehicle inspired Mitsubishi to create several limited editions, including the "Iron Cross", "Desert Cruiser", "White Skipper" and "Duke".
In October 1998 the kei car regulations were again updated, and the Pajero Mini was widened and lengthened.
Click
here to buy a Mitsubishi Pajero Mini
in Uganda