Before you buy a Mitsubishi OUTLANDER Car in Uganda
by Edwin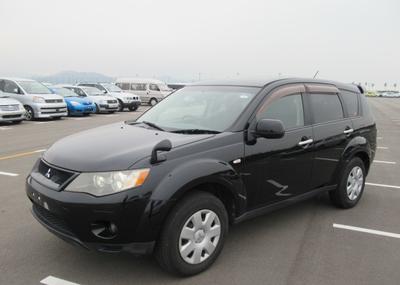 The Mitsubishi Outlander is respected by professional reviewers as well as current and former owners.

The vehicle will comfortably seat eight adult passengers due to a third row of seating in higher trim levels.

The crossover will deliver the fuel efficiency that buyers have come to expect from the compact crossover vehicle class.
The Mitsubishi Outlander is a vehicle that's focused on drivability, comfort, and utility.

This Car was introduced in 2005 and it was received quite well in the market.

By 2012, Mitsubishi introduced advanced safety features along with a new 4WD system. It also gained better fuel efficiency thanks to its lighter body. This mid-size SUV is powered by an inline four engine.

The V6 engine is available for 2007-2009 models. CVT is the standard transmission while AT is available from 2007 to 2010. There are FWD and 4WD variants for you to choose from.


Before you buy a Mitsubishi Outlander in Uganda
The Mitsubishi Outlander is a mid-size crossover manufactured by Japanese automaker Mitsubishi. It was originally known as the Mitsubishi Airtrek when it was introduced in Japan in 2001.
The Mitsubishi Outlander is a refined and aerodynamic appearing something that makes it more attractive to buy.
The Outlander is mainly bought by Government organizations and a few individuals who find them appealing to their needs and taste.
The judiciary and police are some of the government institutions that use the outlander.
Generally the Mitsubishi Car makes are a bit expensive here in Uganda.
The people here usually prefer to the Toyota Car makes. However in spite of this, you will find someone still going out and buying a Mitsubishi.
Click
here to buy a Mitsubishi Outlander
in Uganda
Buying a Mitsubishi Outlander Ugandan car bond
Buying a Mitsubishi Outlander from a Ugandan Car bond can cost up to 50 million Uganda shillings for a recent year of manufacture and latest model.
However, prices can vary depending on the year the condition of the Car. Cars that have been used in Uganda for some time can cost around 30 to 45 million Ugandan shillings.
Expect to get some Mitsubishi Outlander at lower prices like those that have been auctioned off by government ministries.
Importing a used Mitsubishi Outlander from Japan
In case you're to buy a Used Mitsubishi Outlander from Japan you may have to pay averagely about $ 1,000 – $3,000 and more depending on the condition of the car, model, car dealer you use and year of manufacture.
However, the quoted price typically does not include Freight to Mombasa port and transportation from Mombasa port to Uganda. Additionally, it excludes taxes charged by the Uganda Revenue Authority which include Import Duty, Value added (VAT), Withholding Tax, Environmental Levy, Infrastructure Levy, and Registration Fees.
These costs may end up doubling your final cost of your Mitsubishi Outlander.
Click
here to buy a Mitsubishi Outlander
in Uganda
Common Problems Owners of Mitsubishi Outlander face while in Uganda
Well, there are not so many complaints on the outlander. It's either very good or basically not popular as I had stated earlier above.
The 2014 Mitsubishi Outlander has the most overall complaints, & the most-reported problem is with the 2007 Outlander for broken valve stems on tire pressure sensors.
Reasons as to why Ugandans buy the Mitsubishi Outlander
The Outlander's cargo area is big, with a large loading aperture and a one-piece, upwards opening tailgate. Driving pleasure ranks behind practicality, comfort and light off-roading ability in many sports utility vehicles, and this is also the case in the Outlander.
Click
here to buy a Mitsubishi Outlander
in Uganda
Other alternatives available in Uganda similar to the Mitsubishi Outlander
These include the Toyota kluger, Hyundai Santa fe, Audi Q5, Jeep Cherokee and Honda CR-V
Briefly about the interior of a Mitsubishi Outlander
The third row backrests split-fold 50/50 to create a flat floor.
The second row tumbles forward 60/40, which opens up the big rear compartment.
There are numerous plastic under floor storage bins in five-seaters, which are very useful for items such as drinks and wet swimwear.
The wagon can swallow 477 litres of luggage, or up to 1608 litres with the rear seatbacks folded.
Click
here to buy a Mitsubishi Outlander
in Uganda
My last thoughts about the Mitsubishi Outlander
The Mitsubishi Outlander wins no prizes for refinement or interior quality, but the hybrid's potentially low running costs will appeal to SUV buyers.
At the end of it all, it comes down to what you need and as seen above the Outlander is not a bad car to give a try.