Before you buy a Mitsubishi Lancer in Uganda
by Edwin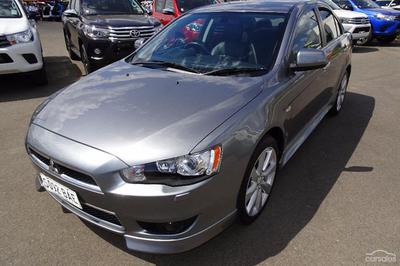 The Mitsubishi Lancer is a compact car produced by the Japanese manufacturer Mitsubishi since 1973. It has been marketed as the Colt Lancer, Dodge/Plymouth Colt, Chrysler Valiant Lancer, Chrysler Lancer, Eagle Summit, Hindustan Lancer, Soueast Lioncel, and Mitsubishi Mirage in various countries at different times, and has been sold as the Mitsubishi Galant Fortis in Japan since 2007. It has also been sold as Mitsubishi Lancer Fortis in Taiwan with a different facelift than the Galant Fortis. In Japan, it was sold at a specific retail chain called Car Plaza. The Lancer derives its name from the term given to a soldier of cavalry regiment armed with a lance, replacing the mid-range Mitsubishi Colt 1000.


Before you buy a Mitsubishi Lancer in Uganda
The Mitsubishi Lancer was first launched in 1973, and is now in its ninth generation. This is the first Lancer to be sold as a hatchback since the fifth generation was unveiled in 1988, and is one of the most practical models in the firm's range. The Lancer takes styling inspiration from the fire-breathing Evo X model, but it but battles against more practical value for money competition like the Skoda Octavia and Chevrolet Cruze. A roomy cabin, generous standard kit and an inclusive service plan make it more competitive than it might first appear.
Click
here to buy or hire Mitsubishi Lancer and buy car spare parts
in Uganda
Buying a foreign used Mitsubishi Lancer from a local Ugandan car bond
You can also find car bonds in Uganda specifically within Kampala from which you can buy your Mitsubishi Lancer. However, you have to do good research in order to find a reputable car bond or dealer who will be able to provide you with the car that will meet your needs and above all genuinely imported into Uganda.
You need to look out for prices and discounts. Local car bonds may not charge the same prices for the same car. Prices of the Mitsubishi Lancer may be affected by mileage of the car, condition of the car, model, and year of manufacture.
Importing a foreign Used Mitsubishi Lancer from Japan or other parts of the world
In case if you prefer to import your own Mitsubishi Lancer from say Japan, things change a bit. First it would require you to find a trusted dealer or seller in that regard, determine your specific car features and requirements, expected budget you plan to spend on buying the car and well calculated taxes to be paid to the tax authorities in order to clear Mitsubishi Lancer.
It is also very important to examine the car upon arrival to check and see if all the car components are included in the car as it was shown to you before buying it. You need to watch out for car spare tires, car jack, radio, navigation systems, window buttons among other things as compared to the vehicle previews shown to you by the car dealer abroad.
The taxes charged by the Uganda Revenue Authority include Import Duty, Value added (VAT), Withholding Tax, Environmental Levy, Infrastructure Levy, and Registration Fees basing on the CIF of the Audi Q5 from Japan.
On arrival to Kampala, Uganda, you will have to clear the taxes at The Uganda Revenue Authority (URA), apply and pay for a number plate and then the third party license. You will also notice the some of these charges or fees differ from other vehicles.
Click
here to buy or hire Mitsubishi Lancer and buy car spare parts
in Uganda
General Mitsubishi Lancer reviews for Uganda
The Lancer doesn't boast the tenacious grip of its illustrious Evo X brother, but the front-wheel-drive motor still has appeal. Engineers have tried hard to give the Lancer a sporty feel from behind the wheel, and the results are impressive. On twisting B-roads, the well balanced chassis and agile nature make it fun. It's very sure-footed and there's plenty of grip, while body roll is kept in check.
However, the trade-off is a rather firm ride – though even this is far from crashy, and deals with rough surfaces competently. There are three engines, 1.5-litre and 1.8-litre petrols, plus the more impressive 2.0-litre Volkswagen-sourced diesel. This packs a strong punch and gives the Lancer decent pace – and, unlike with other Mitsubishis using this engine, it's quiet on the move. Clatter and a lack of refinement aren't an issue here. The five-speed gearbox, furthermore, is every bit as slick as the Evo's six-speeder.
The Lancer's cabin is a hospitable place to spend time. Those familiar with older Lancers will find it much-improved, with excellent build quality and controls that are simple, attractive and well organized. Plastics are a little hard, but it's all very well finished. The driving position is good, too, and there is decent room, especially for rear passengers.
The saloon boot is commodious as well. Running costs should be competitive, mainly due to the low prices and reasonable fuel economy – Mitsubishi has also put in much work to reduce service costs and has stretched check-up intervals. This in return has made it conducive to run in Uganda when you own it.
Click
here to buy or hire Mitsubishi Lancer and buy car spare parts
in Uganda
Availability of Mitsubishi Lancer Spares parts in Uganda
The Mitsubishi Lancer spare are available in Uganda. Unlike the latest models, the spare parts for older models are readily available.
Common Mitsubishi Lancer complaints in Uganda
The 2008 Mitsubishi Lancer has the most overall complaints, & the most-reported problem is with the 2006 Lancer for radiator leaking. In spite of that, the Mitsubishi Lancer doesn't have major complaints here in Uganda.
Click
here to buy or hire Mitsubishi Lancer and buy car spare parts
in Uganda
Our Verdict
The Mitsubishi Lancer offers space, practicality and superb value. It is also a great family car for modern families today in Uganda especially due to its space and practicability.