Before you buy a Mitsubishi L200 Pick-Up in Uganda
by Edwin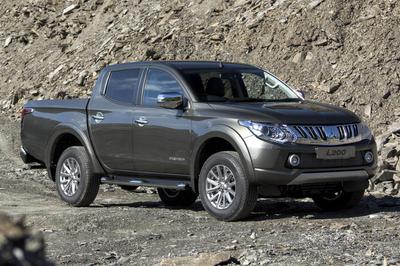 The Mitsubishi Triton also known as Mitsubishi L200 is a compact pickup truck produced by Mitsubishi. It was originally known as the Mitsubishi Forte in Japan from 1978 to 1986, when the name was discontinued as the pickup was not sold in its home market for a while. It returned to Japan in 1991 as the Strada. In the United States two captive imports of the Forte were sold by the Chrysler Corporation from 1979, as the Dodge Ram 50 and Plymouth Arrow Truck.


Before you buy a Mitsubishi L200 Pick-Up in Uganda
The Mitsubishi L200 has a long and fairly illustrious history on the Ugandan Pick-Up market, spanning over 30 years. The fifth generation to carry the L200 badge is improved across the board compared to the Series 4 and Mitsubishi continues to offer a full spread of single, extended and double-cab models to suit all tasks.
Click
here to buy a Mitsubishi L200 Pick-Up or car spare parts
in Uganda
Buying a foreign used Mitsubishi L200 Pick-Up from a local Ugandan car bond
There are a number of ways you can buy a Mitsubishi L200 Pick-Up in Uganda today and one of the simple ways is through a car bond. Here, everything has been done by your car bond dealer. All you have to do is simply pay for the car from the car bond and drive home. However, you can also find that some Mitsubishi L200 Pick-Up have only been cleared the CIF fees only.
This would mean that if you want a Mitsubishi L200 Pick-Up then you will have to clear the rest of the taxes. You can find the Cost, Insurance and Freight of a Mitsubishi L200 Pick-Up (that is from abroad to Kampala) to be around $ 17,000 or even above as stated by the car bond dealers. However, the total sum of the CIF can change due to year of manufacture, condition of the car, mileage and the dealer you choose to buy your Mitsubishi L200 Pick-Up from.
Importing a foreign Used Mitsubishi L200 Pick-Up from Japan or other parts of the world
In most cases, most of these foreign used Pick-Ups originate from Europe. Some of the prominent countries are United Kingdom and the Netherlands. So if you prefer to import you own Mitsubishi L200 Pick-Up from say Japan, the things would change a bit. First it would require you to find a trusted dealer or seller in that regard, your specific car features and requirements, expected budget you plan to spend on buying the car and well calculated taxes to be paid to the tax authorities in order to clear Mitsubishi L200 Pick-Up.
The taxes charged by the Uganda Revenue Authority include Import Duty, Value added (VAT), Withholding Tax, Environmental Levy, Infrastructure Levy, and Registration Fees basing on the CIF of the Mitsubishi L200 Pick-Up from Japan. For example a Mitsubishi L200 Pick-Up 2006 can be got at a price of $9,000 will have a fee of Cost, Insurance and Freight (CIF) totaling to $12,000 to Kampala, Uganda with no Local taxes paid yet.
On arrival to Kampala, Uganda, you will have to clear the taxes at The Uganda Revenue Authority (URA), apply and pay for a number plate and then the third party license. You will also notice the some of these charges or fees differ from other vehicles.
Click
here to buy a Mitsubishi L200 Pick-Up or car spare parts
in Uganda
General Mitsubishi L200 Pick-Up reviews for Uganda
The Mitsubishi L200 gets an advanced common-rail turbo diesel engine with MIVEC variable valve-timing, an aluminium cylinder block and lots of other weight-saving design features. It's a remarkably high-tech unit to find in a pick-up truck and it delivers some very strong fuel economy figures something that steps up its rating in running cost and miles per kilometer.
Looking at its loading space and practicability, the overall dimensions of the L200 are a little more compact than many of its key rivals, particularly in terms of width. The double-cab truck measures in at 5,285mm long and 1,815mm wide, making it 134mm narrower than a Volkswagen Amarok and 45mm narrower than an Isuzu D-Max. Despite this, it doesn't give anything away in terms of capacity.
Getting to the interior, the cabin of the L200 is spacious and durable. Some of the minor switch gear is dated and the plastics quality wouldn't stack-up well in passenger Car Company, but the materials are adequate for the pick-up market with some nice detailing thrown in.
The neat Super Select 4x4 control dial sits behind the gear lever and there's a clear instrument cluster with a clear display showing you which drive mode you're in. A large touch screen sits in the centre of the dash on higher spec models but it does look a bit too much like an after-market addition.
Mitsubishi L200 Pick-Up complaints basing on model year comparison in Uganda
The 2013 Mitsubishi L200 has the most overall complaints, & the most-reported problem is also with the 2013 L200 for engine revving up between gears.
Secondly, the L200 spares more expensive as compared to some its arch rivals like the Toyota Hilux Pick-Up.
Click
here to buy a Mitsubishi L200 Pick-Up or car spare parts
in Uganda
Availability of Mitsubishi L200 Pick-Up Spare Parts in Uganda
The Mitsubishi L200 spare parts are readily available in Uganda and easily accessible in almost all parts of the country.
Mitsubishi L200 Pick-Up competitors in Uganda
Ford Ranger pick-up, Volkswagen Amarok pick-up, Nissan Navara (2004-2015) pick-up, Toyota Hilux Pick-Up and the Isuzu D-Max pick-up are some of the common rivals of the L200 in Uganda.
Click
here to buy a Mitsubishi L200 Pick-Up or car spare parts
in Uganda
Conclusion
The first all-new Mitsubishi Triton in 10 years feels nearly as refined as a good passenger car, and for a ute it is easy to drive in town. Its diesel engine is modern and easy on fuel, and all L200, even the single-cab work trucks, are strong on safety.
The Mitsubishi L200 Exceed Double Cab is very well specified for the money and would make the best family vehicle.